In honor of Veterans Day in the United States on November 11, 2018, we're dedicating a special series to our Veterans here at NuVasive. Veterans Day is a celebration meant to honor America's veterans for their patriotism and willingness to serve and sacrifice for their country. Veterans Day pays tribute to all American veterans, those living or who have passed, but especially gives thanks to living veterans who served their country honorably. At NuVasive, our mission is to continue to change as many patient lives as possible. Having the positive and encouraging spirit of Veterans among our Shareowner family instills high values and work ethic in our workplace and beyond.
Featuring our next #VeteransInSpine feature, Phillip, Facilities Manager in our Memphis office.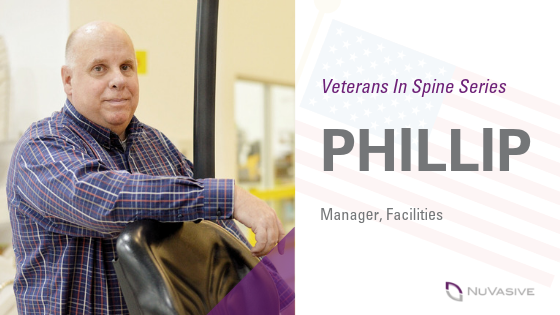 Can you share about your military background?
I completed 25 years of service. I have served at 12 different commands, including six afloat, Fleet Forces, GITMO, Assault Craft units, and Navy Personal. I was a senior enlisted advisor at five of the 12 commands. I performed tasks ranging from deck hand, lead 107 rigger, base police (dog handler), craft master, flight deck officer, force protection office, and various other responsibilities.
What was the biggest challenge, if any, in learning and adopting new cultural norms in the business world?
The biggest challenge for me was learning how to speak in a manner that fellow Shareowners could understand. After 25 years of service, the military life had completely changed my vocabulary. Another challenge that my manager had noticed was my need to never let a door close on itself. I always ensured all doors closed tightly behind me, something that was a force of habit from my history.
How did you end up working in the Medical Device industry? 
My resume was discovered by someone at NuVasive. After considering what I could bring to the table, I decided to interview, and then I had accepted the opportunity when presented to me. I've enjoyed working for NuVasive. I like the interactions with other Shareowners and helping one another solve problems. My wife, Gina, suffered from back pain for several years. She initially didn't want surgery, but with my connection to NuVasive and the people behind the procedural elements, she was able to talk directly to those she had questions for. She ended up having surgery with NuVasive products and is back to normal! I know firsthand how what we do here at NUVA makes a difference.
Initially, how did you convince hiring managers early on that your skills would translate to corporate? 
I think one of my biggest strengths is my innate ability to take on any and all situations head on. My mentality is not looking at issues as problems. I'd rather look at them like a challenge, and the only thing that is going to stop me from completing the task is myself
In the military, if you have a mission, you are expected to complete it. There are always barriers trying to slow you down, but you'll always find a way around to complete the mission. You get extremely good at it over time.
In an interview setting, how would you describe the value of your military experience? 
The fact that I'm results-oriented and hold myself accountable. Also, the fact that I truly believe in "One Team One Fight". This motto means we all have strengths.
If we approach something as a team, each of us using our strengths, it'll make us stronger as one and nothing can stop our success.
Sometimes the transition from military to corporate causes you to "reinvent" some parts of yourself. How would you describe your career and/or personal growth?
I didn't reinvent any part of myself, but I have been improving myself as my time grows with NuVasive. The corporate life has taught me the "civilian" side of operations. This has let me develop additional skills and been very beneficial for me.
---
Stay tuned for the next #VeteransInSpine features rolling out on The Spot now through November 11. To celebrate and recognize Veterans Day, you can volunteer at Veteran facilities, attend local events in celebration of the holiday, and thank Veterans and their families for their service.