In honor of Veterans Day in the United States on November 11, 2018, we're dedicating a special series to our Veterans here at NuVasive. Veterans Day is a celebration meant to honor America's veterans for their patriotism and willingness to serve and sacrifice for their country. Veterans Day pays tribute to all American veterans, those living or who have passed, but especially gives thanks to living veterans who served their country honorably. At NuVasive, our mission is to continue to change as many patient lives as possible. Having the positive and encouraging spirit of Veterans among our Shareowner family instills high values and work ethic in our workplace and beyond.
Featuring our next #VeteransInSpine feature, Matt, Sales Leader.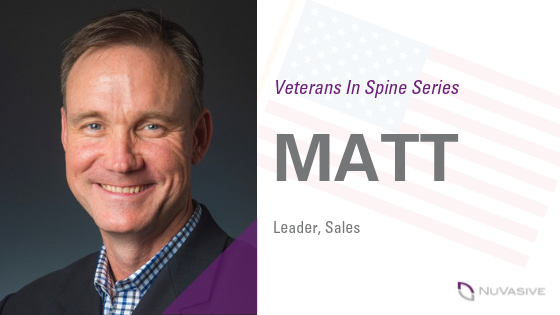 Can you share about your military background?
I joined the military because I wanted to serve my country and everyone else in my family had served. I also needed a way to help pay for college and the military helped me do this with the GI Bill. I joined the U.S. Navy as a Hospital Corpsman (medic), and I was stationed in Great Lakes, IL, Bethesda, MD, and Tampa, FL. I had a great experience at every duty station, but I really enjoyed working at the Naval Research Laboratory in Washington DC, where I met some important people that helped shape my career path.
What was the biggest challenge, if any, in learning and adopting new cultural norms in the business world?
The biggest challenge was having limitations on what you're allowed to do in the civilian environment compared to what you're allowed to do in the military environment. As a medic, they were always pushing us to do more. When I entered the civilian world, I learned that I was not permitted to perform the same functions.
How did you end up working in the Medical Device industry? 
My twin brother was offered an opportunity while selling computers in college. When he explained that he was still working on his degree, somehow my military background was brought into conversation. The hiring manager liked my background and asked for an interview with me as well. The rest is history.
Initially, how did you convince hiring managers early on that your skills would translate to corporate? 
I built a strong case for the skills that the military helped me develop.
Between discipline, hard work, independent thinking, highly organizational skills, and working under pressure, I had checked a lot of the boxes in the types of workers they were seeking.
In an interview setting, how would you describe the value of your military experience? 
I would say that the discipline, organizational skills, and ability to work under pressure would translate well into helping overcome the daily challenges we see in our everyday jobs. I think the reliability and loyalty that most veterans display are also valuable interpersonal characteristics that provide an advantage over other candidates.
Sometimes the transition from military to corporate causes you to "reinvent" some parts of yourself. How would you describe your career and/or personal growth?
I think I've grown the most in my ability to deliver candor in a more emotionally mature manner.
The military allows you to be a little more "raw" in your delivery, as the situation you are in can be more dangerous. I've had some great mentors help me learn this skill over the years.
---
Stay tuned for the next #VeteransInSpine features rolling out on The Spot now through November 11. To celebrate and recognize Veterans Day, you can volunteer at Veteran facilities, attend local events in celebration of the holiday, and thank Veterans and their families for their service.