In honor of Veterans Day in the United States on November 11, 2018, we're dedicating a special series to our Veterans here at NuVasive. Veterans Day is a celebration meant to honor America's veterans for their patriotism and willingness to serve and sacrifice for their country. Veterans Day pays tribute to all American veterans, those living or who have passed, but especially gives thanks to living veterans who served their country honorably. At NuVasive, our mission is to continue to change as many patient lives as possible. Having the positive and encouraging spirit of Veterans among our Shareowner family instills high values and work ethic in our workplace and beyond.
Featuring our next #VeteransInSpine feature, Kory, Information Technology Project Manager.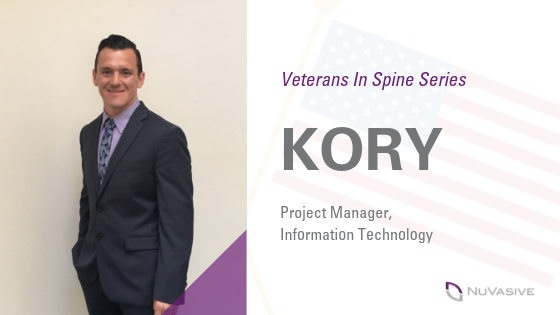 Can you share about your military background?
I initially enlisted in the Army National Guard while I was in High School. I was a three sport athlete with good grades, but coming from a very blue collar family I couldn't afford college. I have multiple family members in the military including my brother, a few years older than me, who had recently joined the National Guard. I was very interested in the discipline and the leadership aspects and decided to enlist. Shortly after, 9/11 happened and I found myself deployed a few years later in 2005 to Iraq. Upon returning, I found the transition back to college student life difficult so I had sought out likeminded people to surround myself with and joined the Army ROTC. When I graduated college, I commissioned as an Officer in the United States Army. I went through a year of training in one of the most academically challenging Department of Defense (DoD) schools and graduated to be an Explosive Ordinance Disposal (EOD) Technician. I've spent the last 10 years in Virginia, Florida, Washington, Texas, Kuwait, Oman, Qatar, and Afghanistan. Some of my key assignments are Unit Commander, Operations Officer, Section Leader, and Human Resources Officer. My last assignment sent me to San Diego where I spent two years teaching Army ROTC at San Diego State University.
What was the biggest challenge, if any, in learning and adopting new cultural norms in the business world?
The biggest challenge is understanding the unique aspects of Information Technology Project Management. Second, learning our company's infrastructure, Software, and Applications. Then, understanding where we are trying to go and how IT impacts our processes.
How did you end up working in the Medical Device industry? 
I wanted to be a Physical Therapist or a Sports Psychologist, so my degree is in Exercise Science. Naturally, the medical device industry fascinated me. During the initial assessment phase of my job search, my fiancé and I identified that Project Management is essentially what I had been doing the last ten years in the army, so I went and obtained my Project Management Professional (PMP) certification.
Originally, I was looking at DoD and Government work because with my background it would be an easier transition. I began to realize how archaic and restrictive Government technologies can be (that's probably an oversimplification), so my focus changed to organizations that were interested in advancing and becoming closer to the forefront of technologies.
Through a Veteran Networking Organization, I was invited to a Biocom event aimed at targeting veterans interested in exploring career opportunities in the life science sector. At the event I met with several companies, including NuVasive.
I received several call backs and interview invitations, but I really hit it off with the NuVasive team!
Initially, how did you convince hiring managers early on that your skills would translate to corporate? 
I focused on leadership and the fundamentals of Project Management. I tried to show the correlation between what I had been doing in the Army and the position I was interviewing for. I demonstrated my intelligence and ability to quickly learn, I had never worked in the IT field or the medical device industry. Finally, I wanted them to know I was passionate about the new position and industry I was interviewing for.
In an interview setting, how would you describe the value of your military experience? 
The value is priceless! It has made me the person I am today.
The military is hard, but it pushes you to the limits, puts you through immense stressors, and teaches you how to deal adversity like no other organization does.
Additionally, the Army brought me to San Diego where I met my beautiful fiancé and has set me on my new path.
Sometimes the transition from military to corporate causes you to "reinvent" some parts of yourself. How would you describe your career and/or personal growth?
I don't think I've had to reinvent myself. I try to be myself, real, and authentic. I think people have to prove themselves all over again when they transfer to a new company. That's pretty universal and has been no different for me.
---
Stay tuned for the next #VeteransInSpine features rolling out on The Spot now through November 11. To celebrate and recognize Veterans Day, you can volunteer at Veteran facilities, attend local events in celebration of the holiday, and thank Veterans and their families for their service.