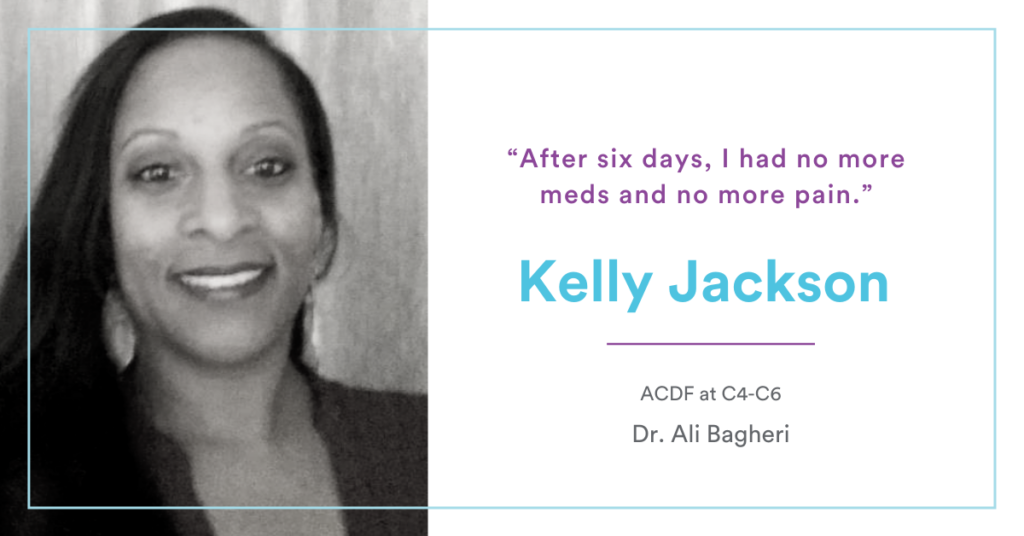 Since its inception in 2010, NuVasive's the Better Way Back (TBWB) program has been committed to raising public awareness of spine disorders and educating patients, loved ones, clinicians, and healthcare providers about treatment options, including surgery. Changing patient lives and empowering patients to make informed treatment choices are the heart of the program's mission. In this series, you will hear from some of our own TBWB patient ambassadors who are dedicated to sharing their stories of challenge and hope.
Hometown: San Diego, CA
Surgeon: Dr. Ali Bagheri
Procedure: ACDF at C4-C6
Surgery date: September 9, 2020
About Kelly
Kelly dealt with unpredictable neck pain for many years. She experienced a variety of burning, stiffness, weakness and pain, but she never quite knew what her daily symptoms would be. When it all began, she was told she could speak with an orthopedic surgeon, but surgery wasn't what she wanted at the time. "Come to think of it," Kelly said, "surgery wasn't what I wanted this time either, but my condition was worse than I thought. My spinal cord was being compressed." Eventually, her bouts of pain became more frequent and longer lasting. She had managed to stay afloat with occasional muscle relaxants and massage, but Covid-19 upset her survival mechanisms. "In the last year with the pandemic, I couldn't even get a massage," Kelly shared. She did, however, consult with Dr. Ali Bagheri and get scheduled for surgery.
Life now
Kelly described her recovery timeline as "not bad at all! After six days, I had no more meds, and no more pain." Tolerating the unpleasantness of the hot, sweaty neck brace post-op was the worst part of recovery, in her experience. Kelly put off surgery for many years because she was afraid that it would only make things worse, but now she has some long-term damage that may not be reversible. Only time will tell, but Kelly is hopeful to regain more of the strength in her left arm. Previously occupied as a massage therapist and manicurist herself, Kelly recognizes that those working positions were less than ideal for what she was suffering through. She's eager to choose another line of work that will be healthier for her ongoing spine health. In the meantime, she's eager to share her story to help others who may be trapped by the same fear that kept her from getting a more timely surgery.
Click here to learn more about our community dedicated to providing hope, support, and information to the millions who are suffering from chronic spinal conditions.
Each individual's surgical procedure and recovery may deviate from what is described herein. This information is not intended to supersede or supplant the information provided by your doctor.
©2021. NuVasive, Inc. All rights reserved. The Better Way Back is a registered trademark of NuVasive, Inc.