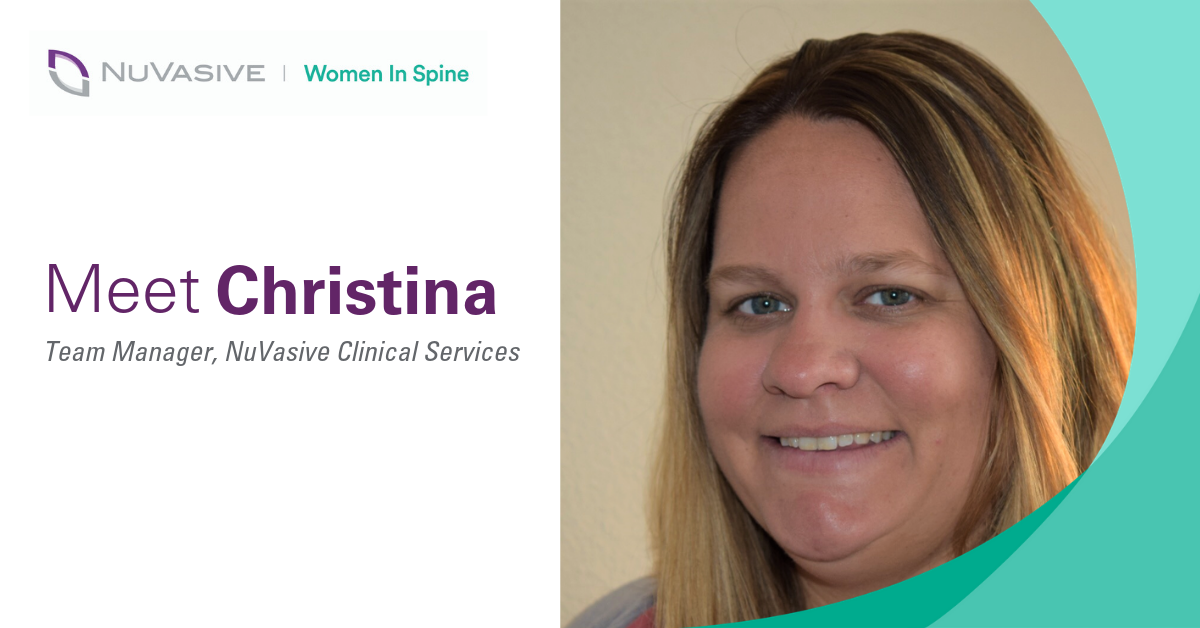 Since celebrating International Women's Day last year, we have grown our #WomenInSpine series with numerous features of our female leaders at NuVasive. This year, we are proud to keep empowering women with the launch of our first Employee Resource Group (ERG): Women in Spine (WIS). This new group is committed to building an inclusive culture to ensure that NuVasive realizes the full potential of its female talent. With our ERG and #WomenInSpine blog series, NUVA aims to continue to celebrate and highlight our female shareowners' achievements and success.
Featuring our next #WomenInSpine feature, Christina, NM and CO Team Manager, NCS
What woman inspires you and why? 
I think it is difficult to always put into words how much someone inspires you—it's even more difficult when it is my own mom. She is so smart and always has the perfect advice for every situation. I cannot count how many times her advice has significantly impacted my life. My mom is successful, her work ethic is better than anyone I know and I do not just say that because she is my mother. Every time I mention her name, the amount of respect and praise that I hear from other people about her has motivated me to work hard in every aspect of my career so I can be that same successful woman.
What advice would you give to other female professionals in NCS Field Operations? 
In the team manager position with NCS, I have encountered challenges and setbacks as I continue to work hard to grow my team and my territory. I always tell myself that I am tough, capable and have the skill set to grow the team and the local business even when I have encountered those hurdles. The best advice I have is always set clear goals and standards and always be honest with yourself when things are not working for your team and business.
If you treat people with compassion and positive feedback, it boosts the morale of the team and helps the territory run smoothly.
What do you think is the most significant barrier to female leadership? 
We as females are the most significant barrier to female leadership. Traditionally, females are encouraged to not be leaders and are made to feel inadequate—this is confirmed in the environment in which we live. We need to look around the world at significant female leaders and follow in their footsteps. If you cannot find someone who inspires you, start your own path for leadership.
How do you think the female perspective benefits our company mission of changing patient lives? 
The female's ability to sense and understand allows us to intuitively have empathy for a patient who is about to undergo a life-changing procedure. Having this perspective helps us to put patients at ease and let them know that we are here to change their lives for the better. Studies have shown that having empathy in the workplace puts everyone at ease and empathetic individuals often outperform those who aren't empathetic.
What will be the biggest challenge for the generation of women behind you? 
I think the biggest challenge of the generation of females behind me will be achieving that work life balance. They have to be able to take full advantage of what they have accomplished and balance that without sacrificing their personal lives.
The next generation needs to find something they have a passion for and not be afraid to try new things.
This is how they will learn what they are able to do so they can move toward becoming great leaders.
---
To read other #WomenInSpine features, click here to browse our 'Culture' section.