At NuVasive, we aim to empower not only our female Shareowners, but prospective Shareowners and young women who are interested in pursuing careers in STEM with our company. We value the perspectives and insights that our female Shareowners bring to these roles. As a company, we are prioritizing our efforts to provide resources to help guide our current Shareowners to their fullest development potential and influence young women who want to make an impact in the field of STEM. Read our latest blog featuring our Shareowners and their reflections on the paths they took to arrive to their STEM careers at NuVasive: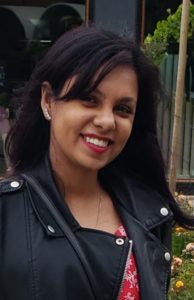 Gehna Mansinghani, Validation Test Engineer, Surgical Intelligence
Her story:
I test our devices to ensure they are of high quality, safe and reliable for patient use and are also in compliance with regulatory bodies, e.g. FDA. Currently I am working on the validation and verification of the Pulse integrated system, specifically Pulse LessRay. I had originally planned to become a neurosurgeon, as I was a biology and pre-med undergraduate. During undergrad, I joined a neuroimaging research lab to gain research experience for med school and became fascinated with the integration of technology and medicine. This new passion led me to change my career path and pursue a graduate degree in bioengineering. My first job out of college was a validation engineer position. As a validation engineer, I liked being able to bring the system together from its small pieces, seeing the big picture and testing the system as a whole. More importantly however, I started to appreciate that I can make a positive impact to young people who strive to be a validation engineer, so I continued in the field and that's why I'm still with NuVasive today.
Her best advice:
There is still a misconception in the society that women are as not as good as men in math or engineering skills. Don't let the bias that you face from others make you doubt your worth or make you think you're not capable of great achievements. You deserve to be where you are, and what you contribute has value, so don't be afraid to speak up.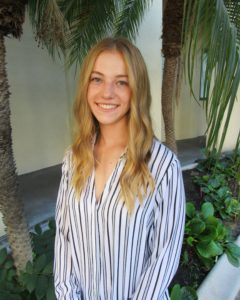 Shannon Isley, Development Engineer, NuVasive Specialized Orthopedics
Her story:
I am finishing my first year at NSO, and so far my job has been to support our Research & Development team with implant and instrument development, mechanical testing and project documentation. Throughout my early education, I always had an affinity for my science and mathematics classes, but it wasn't until early in my undergrad at San Diego State University that I realized I wanted to work closely with the human body and explore the ways engineering could enhance its performance. This led me down the path of Biomechanical Engineering, and eventually into the world of orthopedics design. Growing up, my father was a major influence. He was an engineer who spent most of his career creating interesting products and traveling the world at Qualcomm's San Diego headquarters. I've also been really interested in helping to improve the lives of those with disabilities as my older brother has been severely disabled since birth. I understand firsthand how hard it can be to navigate life for that individual and their family, so I wanted to find a way to help others in their shoes. I kind of stumbled into the orthopedic implant industry with an internship at another spine orthopedics company in the Summer of 2018 and I found it to be very interesting as it checked all my development boxes at the time. From there I reached out to NuVasive upon my graduation and the rest is history.
Her best advice:
In high school when I mentioned that I'd be pursuing an engineering degree, it would often be met with surprised and incredulous responses. I think this came from an idea that women are not as interested in STEM fields as their male counterparts, but this is totally a misconception! My advice to other women interested in pursuing a career in STEM is to just go for it. I'm not saying it won't be hard, or at times isolating, but you are the creator of your own experience. Fight for what you want. Reach out to the women who came before you for help along the way, and when you are ready, reach back to lead those following in your footsteps.
Ana Monterrubio, Software Test Manager, Surgical Intelligence
Her story:
I am in charge of the software quality of all apps in our Pulse system. I am very practical, and I think I was always inclined for something engineering related. My parents were some of my greatest influencers. My dad, a self-proclaimed feminist, always supported me in every possible way and my mom always wanted to be an engineer but her parents wouldn't let her, so she had to get a non-engineering college degree; she was over the moon about my career choice. I was the first generation of a program in high school in which we were supposed to have an IBM certification, but the program fell through and changed to an opportunity for internship in a software company. As a result, the whole generation (about 50 students) had extra classes to take for a semester in order to prepare for the internship, and after a few weeks of interviews, the company selected 10 of us to start. I was invited to continue the internship full time when I started college and continued to work and complete my BS in mechanical engineering. By the time I graduated, I had tons of experience in software companies and not a ton of great opportunities for mechanical (with the crisis of 2008/2009) so I applied with my experience, rather than my title. NuVasive's vision and focus, and the fact that it was a medical device company, not just software, were all things that stood out to me as the next step in my career. I couldn't believe how cool it all looked, and there were many things I had never worked with or heard of.
Her best advice:
I think a big part of "being challenged being a woman" in any field is feeling like you're different or have less opportunities. I think you should look at your differences, be those shortcomings or advantages as an individual, not as a part of a gender group. You should always go for it!  If it's what you want to do, do it!  Learn as much as you can. Know that it's okay to not know everything and it is important to recognize when you need help, and to take the lead when you are ready to do so. Know that failure can be a step to success. Don't be careless but don't be too careful either. Own (and learn from) your mistakes and celebrate your successes.
Pranali Tambe, Sr. Quality Engineer, Product Development
Her story:
My work is to support the new product development team and ensure that we get quality product to our users. I have always been intrigued by biology, specifically the human body. The first instance was how a hip replacement surgery had helped my aunt get back to her normal working lifestyle. This is when I decided that I wanted to be in the medical device industry and biomedical engineering was a great way to pursue a career in that. My father was an engineer, and growing up I envisioned myself also becoming an engineer; however, at the same time, I was partially inclined towards pursuing medicine. Personal life events mentioned above, along with my inclination towards medicine made me look for an engineering field that would allow me to do both, and that's how I ended up pursuing a career in the STEM field. After graduation, I was looking for companies that would allow me to pursue my passion of improving lives, and was specifically targeting companies whose mission aligned with my passion; NuVasive was definitely on the forefront. I finally found my way here and enjoy every minute of what I do. I'm lucky to have had a supportive group of people while growing up and can't remember of any challenge I faced as a woman in a male dominated field. A lot of my engineering professors, managers, and mentors were female. The same luck continued with me joining NUVA that largely supports women in STEM careers.
Her best advice:
Choosing a mentor who supports your career and guides you along your path to success is very important. I personally reached out to a lot of women engineers pursuing a career in STEM to get to know them better, and how they achieved the success and position they are in currently.
Caroline DiBattista, Web UI Designer, Surgical Intelligence
Her story:
I am responsible for putting together new GUI designs for the Pulse system, with a focus on navigation and robot screw planning/placement. I am really passionate about the challenge of turning high-level requirements into user-centric designs, including interactive prototypes. I had always wanted to be a police officer, but then fell in love with programming when I was 16 years old. My first computer was a Sinclair ZX81 with 1K of memory; I still have my ZX81 with its original box! After leaving school at 16, I joined a government training scheme that focused on programming, electronics and word processing. I found I had a real aptitude for programming and made the decision to go back to school to gain a BTec in information systems and then a BSc in computer science. My parents have always been really supportive and a big inspiration to me. My father encouraged me to take the opportunity to head out to America; he was very sick at the time and told me not to put my life on hold for him. The two people who really encouraged me to develop my programming skills were my teacher at school, Mrs. Cleasby, and the manager of the government training scheme I attended, Mr. Brown. Whilst I was on the government training scheme, I would visit local schools and give talks about computer programming and how much fun it was. Although I had 20+ year of programming experience and 10+ years as an application designer (in the medical field), I decided about 4 years ago to go back to school again and gain my Graphic and Web Design Certification from UCSD Extension.  Having switched from a traditional programmer role to a designer/programmer, I discovered I needed a portfolio to show off my designs; it was like being an artist! Completing this certification was a huge stepping stone into NuVasive and the next phase of my career.  I was really interested in NuVasive because of its focus on the medical field and believed my experience in programming and designing medical applications aligned with the Web UI Designer role at NuVasive.  It is not common to find a role that requires both programming and design; companies usually break this into two different roles.
Her best advice:
In today's environment, it is critical to keep your skillset up to date and let your work speak for yourself.  Work hard to overcome the obstacles and pursue your dream of a career in STEM.
Interested in a career in STEM with NuVasive? See our open roles here.
Click here to read some of our past Shareowner features.