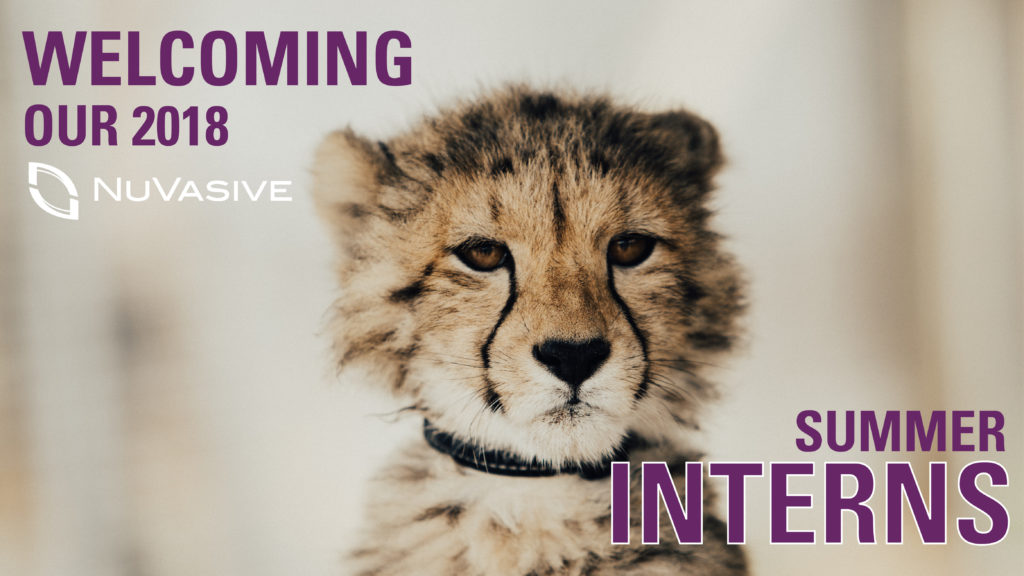 At NuVasive, we are passionate about building up the next generation of innovators. This summer we welcomed 16 NuVasive interns across multiple company departments and in 4 locations. Our interns will have the opportunity to take part in various hands-on activities such as performing an XLIF surgery in the cadaver lab, participating in leadership workshops from NUVA executives, and focusing on resume-building tactics with the HR team. However, their experience is not only limited to professional activities; they also participate in various recreational and culture bonding activities such as a field trip to local MLB game, weekly intern lunches, and team outings. As the NuVasive Internship Program Manager, Natalie is in charge of recruiting our summer interns, coordinating the summer's activities, and running the program seamlessly for a special NuVasive experience.
"Interns bring new perspectives and enthusiasm to our culture. Our shareowners are thrilled when intern season comes around and enjoy welcoming our cohorts every summer. Our internship program has been a great source of talent for us year after year and we look forward to continuing to support a strong internship program here at NuVasive." – Natalie
Introducing the class of 2018 NuVasive Summer Interns….
Meet Talisa! From California State University Long Beach, Talisa is our International IT Applications intern this summer. Talisa is excited to build valuable relationships and work with a multitude of different teams in a collaborative environment.
Dan, a student at Duke University, is one of our Marketing Technology interns in the San Diego office. He is looking forward to the leadership sessions planned for the interns as well as the team work aspect of his job!
Meet John! John currently attends Brigham Young University and is assisting our Supply Chain team in San Diego. John is looking forward to experiencing an XLIF surgery firsthand and getting mentored by professionals within the medical device industry.
Introducing Jhonathan from the University of California, San Diego! He is working as one of our Development Engineer interns and is looking forward to being able to design implants and create prototypes.
Meet Ryan, a student from the University of California, San Diego! He is helping NuVasive as a Software Engineer intern. Ryan's looking forward to working on impactful projects that challenge him and help him grow in his desired career.
Introducing Alden from Texas Christian University! Alden has joined our San Diego team as one of two Marketing Technology interns this summer. Alden is excited for getting to know the Shareowners and other interns while making an impact during her time here.
Aashi currently attends San Diego State University and has joined the IT Project Management team in San Diego. This summer, she is looking forward to meeting professionals and contributing to the company by making a difference with the work she does!
Meet Luis! Luis currently attends San Diego State University and is working as one of our Client Relation interns. He is excited for learning more about NUVA and taking challenges head-on by dealing with adversity that may arise.
To conclude our SD intern introductions, meet Brandon! As a student from the University of California, San Diego, Brandon will be helping NUVA in the Information Security department. He is looking forward to learning more about information security and getting to work with new software technologies.
Meet Justin! From the Ohio State University, Justin has joined our Ohio office as the Manufacturing Engineer this summer. He's looking forward to learning about the medical technology industry and moving towards his goal of obtaining a career in this field.
Luke, another student from the Ohio State University, is assisting NUVA this summer as a member of our Manufacturing Engineering team. Luke is excited to meet everyone, learn new skills, and help improve different processes.
Meet Ryan! He currently attends Butler University and is working as a Manufacturing Engineer intern. He's excited to make a difference at NUVA, while learning more about medical technology.
Introducing Roxana! As a student of the University of Cincinnati, Roxana is making her mark on NUVA in our Quality Engineering department. Her goal this summer is to help us establish effective documentation practices, while learning more about the spinal device field.
Meet Jack! A student from Michigan State University, Jack is assisting NUVA as a member of the Field Logistics team. This summer, he is eager to meet the other interns, participate in team building activities, and help increase the efficiency of logistics!
Georgina is a student from Christian Brothers University. She has joined NuVasive in the Field Logistics department. She is looking forward to helping customers, collaborating with others, and learning about the NUVA culture!
Our final intern introduction is Kathryn! From the University of Michigan, Kathryn has joined NUVA as a Software Engineering intern. She is most excited about working with different Shareowners and growing as a programmer during the period of her internship.
Be sure to follow our 16 summer interns and their experiences here at NUVA! You can find the latest updates and intern happenings on our Instagram, Facebook, and LinkedIn channels.
---
If you want to learn more about the NuVasive Internship Program, view our careers page here.