In honor of International Women's Day coming up on March 8, we're dedicating a special series for some of our female leaders at NuVasive. What is International Women's Day (IWD)? It is a global day that celebrates the social, economic, cultural, and political achievements of women all over. In addition, IWD marks a call to action for accelerating gender parity. Internationally, purple is a color for symbolizing women, signifying justice and dignity. At NuVasive, our mission is to paint the world purple and continue to change as many patient lives as possible. Pairing the two purples together, we hope NUVA can help drive the movement to increase unity, advocacy, and action in our society.
Featuring our next #WomenInSpine, Danielle, Vice President of Talent Acquisition.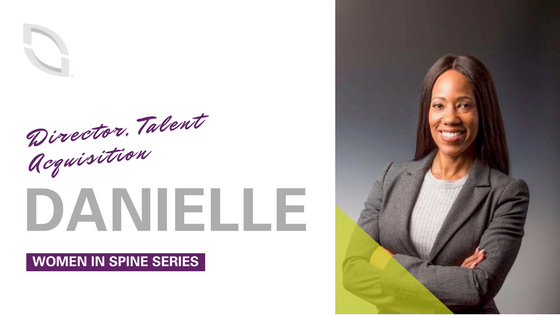 What woman inspires you and why? 
This is an extremely difficult question to answer because there are many women that have inspired me in some way. It's nearly impossible to narrow it down to just one. There is no question that my first introduction to leadership was my mother. As a single working mother struggling to balance a career and raising two young children, she always encouraged me to work hard. Women going as far back as Harriet Tubman and Susan B. Anthony to Maya Angelou, Michelle Obama and Malala Yousafzai have inspired me as well. My admiration for these women is the one thing they all have in common: their ability to overcome adversity despite any challenges or obstacles they faced.
What advice would you give to other female professionals in Talent Acquisition? 
As the VP of Global Talent Acquisition for NuVasive, my focus is to go above and beyond as a strategic thought partner when it comes to bringing top talent to the organization. My advice is to inspire others to learn more, be flexible yet committed, and most importantly, maintain a clear understanding of business objectives to sustain growth and scalability as people are the greatest asset to any organization.
What do you think is the most significant barrier to female leadership? 
Too often it is believed that there is a need to possess masculine traits in order to be an effective leader and the glass ceiling can never be shattered.
Have the ambition to challenge the status-quo and be confident in your own capabilities. You deserve a seat at the table!
How do you think the female perspective benefits our company's mission of changing patient lives? 
As NuVasive continues to revolutionize the spine industry through innovation, a female perspective supports our company mission by bringing added diversity of thought and inclusion resulting in improving our business results. This will drive disruption with the gain of market share and ultimately change even more patient lives.
What will be the biggest challenge for the generation of women behind you? 
The biggest challenge for the next generation of women will be the enormously disproportionate influence of social media and today's leader relating to the future. Technology has become an integral part of the next generation's identity and they are comparing themselves to others against content observed online. We need to continue to enhance the visibility of positive role models, women in leadership, provide encouragement, and instill self-confidence. I want my daughter and the women behind me to never let their gender define future opportunities or limit their view of what can be accomplished.
---
To learn more about International Women's Day and how you can get involved, click here.