This past March, we celebrated International Women's Day by dedicating a special series for some of our female leaders at NuVasive. What is International Women's Day (IWD)? It is a global day that celebrates the social, economic, cultural, and political achievements of women all over. In addition, IWD marks a call to action for accelerating gender parity. Internationally, purple is a color for symbolizing women, signifying justice and dignity. At NuVasive, our mission is to paint the world purple and continue to change as many patient lives as possible. Pairing the two purples together, we hope NUVA can help drive the movement to increase unity, advocacy, and action in our society.
Featuring our September #WomenInSpine feature, Bailey, Lead Buyer of Supply Chain.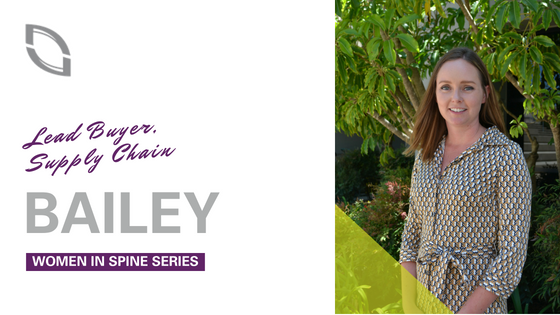 What woman inspires you and why? 
My mom is my mentor and number one cheerleader. She has always worked hard, but also made sure to show me how to balance family and personal time with professional success. She demonstrated absolute ownership to me before I was a Cheetah, and continues to take pride in every challenge she overcomes. Her joy and passion in every facet of her life makes me believe we can really have it all if we put the effort into it.
What advice would you give to other female professionals in Product Marketing? 
"Make sure to take a minute to appreciate the wins, no matter how small."
There's no shortage of challenges out there. Find what keeps you motivated and use it to continue knocking obstacles down.
What do you think is the most significant barrier to female leadership? 
I think a lot of times we get in our own way with doubt or fear. Know what you want, make a plan to get there, and don't be afraid to reach out for help. We aren't in this alone and having the support of our peers, both male and female, will make the journey smoother and more enjoyable.
What will be the biggest challenge for the generation of women behind you? 
"Work-life balance will continue to be an ongoing challenge, but I am confident that we are making strides to appreciate and understand what makes us successful."
By not being afraid to embrace every aspect of our lives, we will be able to thrive.
How do you think the female perspective benefits our company mission of changing patient lives? 
Diversity is a great driver of innovation, and the more different-minded people you can have during planning and when discussing issues the better. Asking the questions everyone else thinks is obvious has been one of our most effective problem-solving tactics, and has led to quicker innovation.
---
To read other #WomenInSpine features from last month, click here to browse our 'Culture' section.