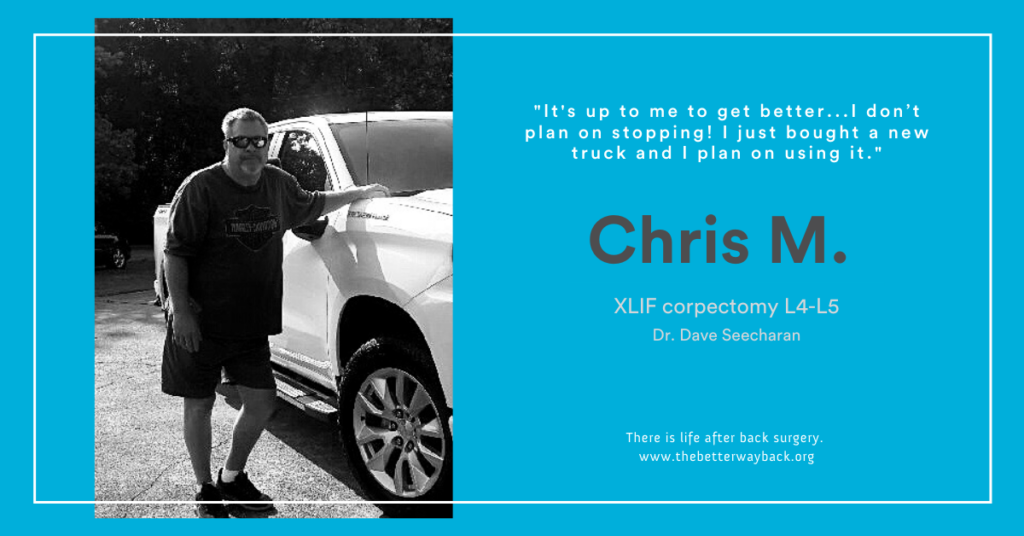 Since its inception in 2010, NuVasive's The Better Way Back (TBWB) program has been committed to raising public awareness of spine disorders and educating patients, loved ones, clinicians, and healthcare providers about treatment options, including surgery. Changing patient lives and empowering patients to make informed treatment choices are the heart of the program's mission. In this series, you will hear from some of our own TBWB patient ambassadors who are dedicated to sharing their stories of challenge and hope.

Hometown: Atlanta, GA
Surgeon: Dr. Dave Seecharan, Apex Spine and Neurosurgery
Procedure: XLIF corpectomy L4-L5
Surgery date: April 5, 2019

About Chris
By all appearances, Chris was an active, healthy adult. He was an avid hunter and had just landed his dream job doing set work for movies. When he started having trouble walking and lifting his leg into his truck, he rationalized that he'd simply strained his back. About a month later, Chris fell at home without warning. Unable to get up, he called his parents who helped him to the ER. Doctors explained to Chris that a tumor was wrapped around his L4- L5 vertebra, and as a result, that spinal level had become soft and unstable. They were surprised he wasn't already bedridden, and cautioned that if he fell again his back bone would likely sever his spinal cord. In Chris's own words, "that was the day everything came to a grinding halt." One thing led to the next as Chris discovered the root of his issue was actually stage four lung cancer, of which he had been completely unaware. The cancer had already spread from his lungs to his hip, leg, and now spine. Nothing about what unfolded next was simple or easy. Vascular complications and severe blood clots during recovery left Chris completely unable to walk. Weeks later, "an ambulance brought me home on a gurney," said Chris. 

Diagnosis
Spinal tumor

Procedure overview
XLIF corpectomy L4-L5

Life now
Chris recounts that this has been an emotional journey, but he kept a positive outlook even when his closest friends feared the worst. Extensive physical therapy helped Chris go from being completely unable to get out of bed, to walking with a cane for an hour or two without resting! Now he manages his exercises on his own, as well as almost all of his self-care. "It's up to me to get better," expressed Chris. Standing up from the sofa without assistance, driving himself to a medical appointment, and taking a road trip with his girlfriend are all "wins" that keep Chris focused on progress and hope. "I don't plan on stopping! I just bought a new truck and I plan on using it," Chris shared determinedly.
Click here to learn more about our community dedicated to providing hope, support, and information to the millions who are suffering from chronic spinal conditions.
Each individual's surgical procedure and recovery may deviate from what is described herein. This information is not intended to supersede or supplant the information provided by your doctor.
©2020. NuVasive, Inc. All rights reserved. The Better Way Back is a registered trademark of NuVasive, Inc. 9513307 A