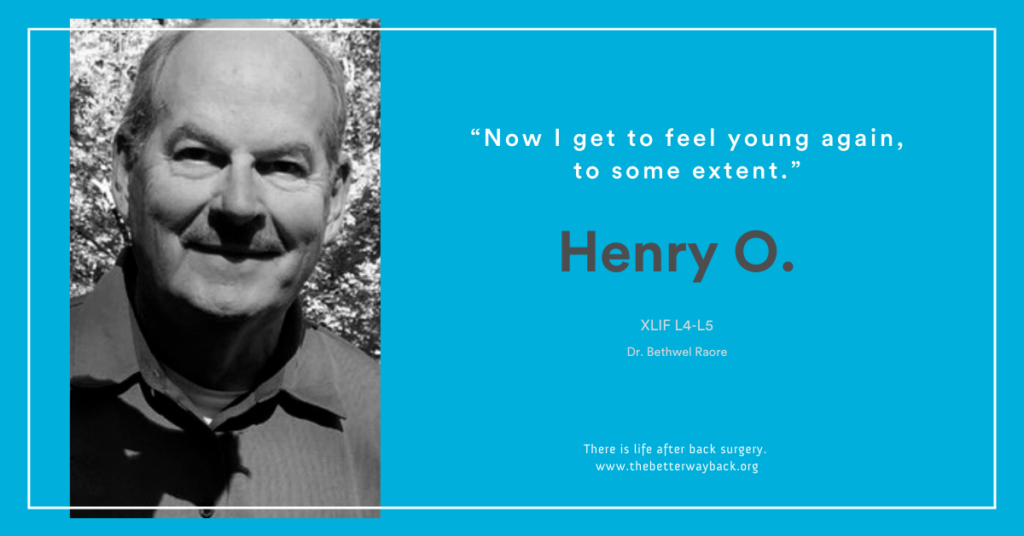 Since its inception in 2010, NuVasive's the Better Way Back (TBWB) program has been committed to raising public awareness of spine disorders and educating patients, loved ones, clinicians, and healthcare providers about treatment options, including surgery. Changing patient lives and empowering patients to make informed treatment choices are the heart of the program's mission. In this series, you will hear from some of our own TBWB patient ambassadors who are dedicated to sharing their stories of challenge and hope.
Hometown: Atlanta, GA
Surgeon: Dr. Bethwel Raore, Apex Spine and Neurosurgery
Procedure: XLIF L4-L5
Surgery date: July 25, 2019
About Henry
Henry's lower back problems began roughly two years before he had surgery. During that time, he faithfully completed a host of conservative treatments. His symptoms persisted, however, and Henry felt progressively worse. Eventually, getting up in the morning and participating in everyday activities, including his work became a struggle. Henry had initially resisted seeing a surgeon because he heard horror stories about back surgery, but eventually after weighing his options, he felt it was the only next step. Juggling several surgical opinions, Henry decided he liked Dr. Raore's realistic, no-nonsense approach to his care. Dr. Raore explained the cause of the symptoms that Henry was experiencing, and while he did not promise a total cure, he expressed confidence that the surgery could offer Henry significant relief. Reflecting back on that conversation, Henry said, "I thought it was over for me, so that sounded like hope."
Diagnosis
Degenerative disc disease (DDD)
Path to treatment
Physical therapy, acupuncture, medications, cold laser treatment, radio-frequency ablation, cortisone injections
Procedure overview
XLIF L4-L5
Life now
After surgery, Henry told himself he would never do that again, whether it worked or not. "When I woke up from surgery, I thought I'd made a big mistake. But the next day, the pain I experienced prior to surgery started go away for the most part. I got off the pain meds a couple of weeks later," he shared. Now he's feeling "very happy with the whole thing!" Henry eased back into life slowly, with a healthy dose of caution in the first six months. Completing a post-op physical therapy regimen helped him regain confidence that everything was okay in his back. Now he's back to doing yard work, mulching, pushing the wheelbarrow and all kinds of work around the house. But it's not all work for Henry! He was elated to share that recently he went out and hit some golf balls, swinging his club like he used to before back pain. He looks forward to playing more golf when the weather cools, so in the meantime he commits to regular time in the gym to stay strong and flexible. "Dr. Raore is a very special person. He's my doctor," Henry said gratefully. "Now I get to feel young again, to some extent."
Click here to learn more about our community dedicated to providing hope, support, and information to the millions who are suffering from chronic spinal conditions.
Each individual's surgical procedure and recovery may deviate from what is described herein. This information is not intended to supersede or supplant the information provided by your doctor.
©2021. NuVasive, Inc. All rights reserved. The Better Way Back is a registered trademark of NuVasive, Inc. 9513229 A