In our Featured Case series, NuVasive showcases innovative cases and how our technologies are integrated to create a cohesive system to address key patient pathologies. Our mission at NuVasive is to transform surgery, advance care, and change lives and we are constantly focused on how to deliver improved patient outcomes, increase OR safety and efficiency, and extend our technology to future applications.
In this case, Aaron J. Buckland, M.D. and Juan C. Rodriguez-Olaverri, M.D., Ph.D. perform a T4-L3 open correction with Reline 3D and NuVasive Power Final Tightening.
Case details:
Gender: Female
Preoperative diagnosis: Idiopathic scoliosis and 55° 1AR curve
Instrument highlights: Reline Open polyaxial screws, Reline 6.0 Ti and 6.0 CoCr rods, Reline MAS guides w/ Piledriver reducers, NuVasive Power Final Tightening disposable torque limiter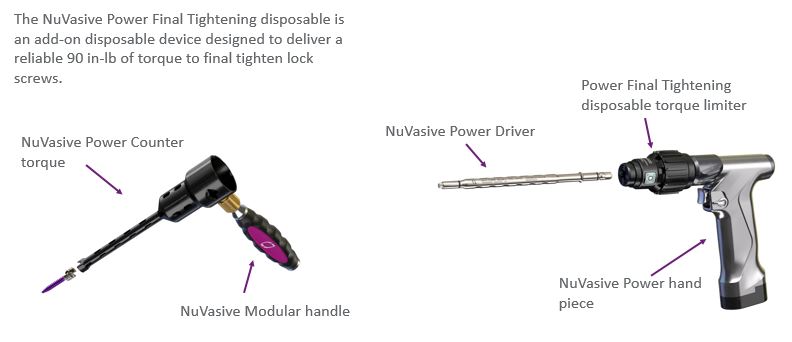 Surgical plan:
Dual rod technique utilizing Reline 3D/Hybrid approach providing the access of an open approach with the reduction capabilities of Reline MAS.  Power used throughout the case for screw placement, reduction and final tightening of set screws.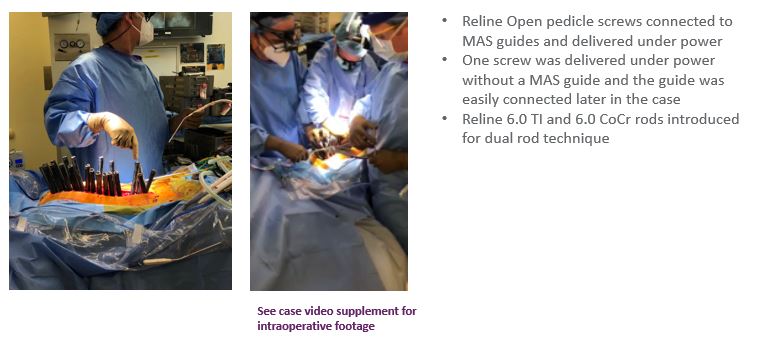 Intraoperative video supplement:


Pre and postoperative comparison:

"Power reduction and Power Final Tightening enable better efficiency and increase surgeon comfort during deformity correction. The preassembled reduction system on Reline 3D made the dual rod reduction technique easier and more efficient.  The system allows for more streamlined rod passage and rod capture and allowed for a powerful correction."*
– Dr. Aaron J. Buckland
*An individual's surgical procedure and recovery may deviate from what is described herein. Each case is unique and has its own independent considerations.  It is the surgeon's responsibility to discuss all relevant risks with the patient prior to surgery.
---
Click here to read more case features.
Click here to access each of the above-referenced product specific Instructions for Use for important product safety information, including, but not limited to, indications, contraindications, warnings, precautions, and potential adverse effects.