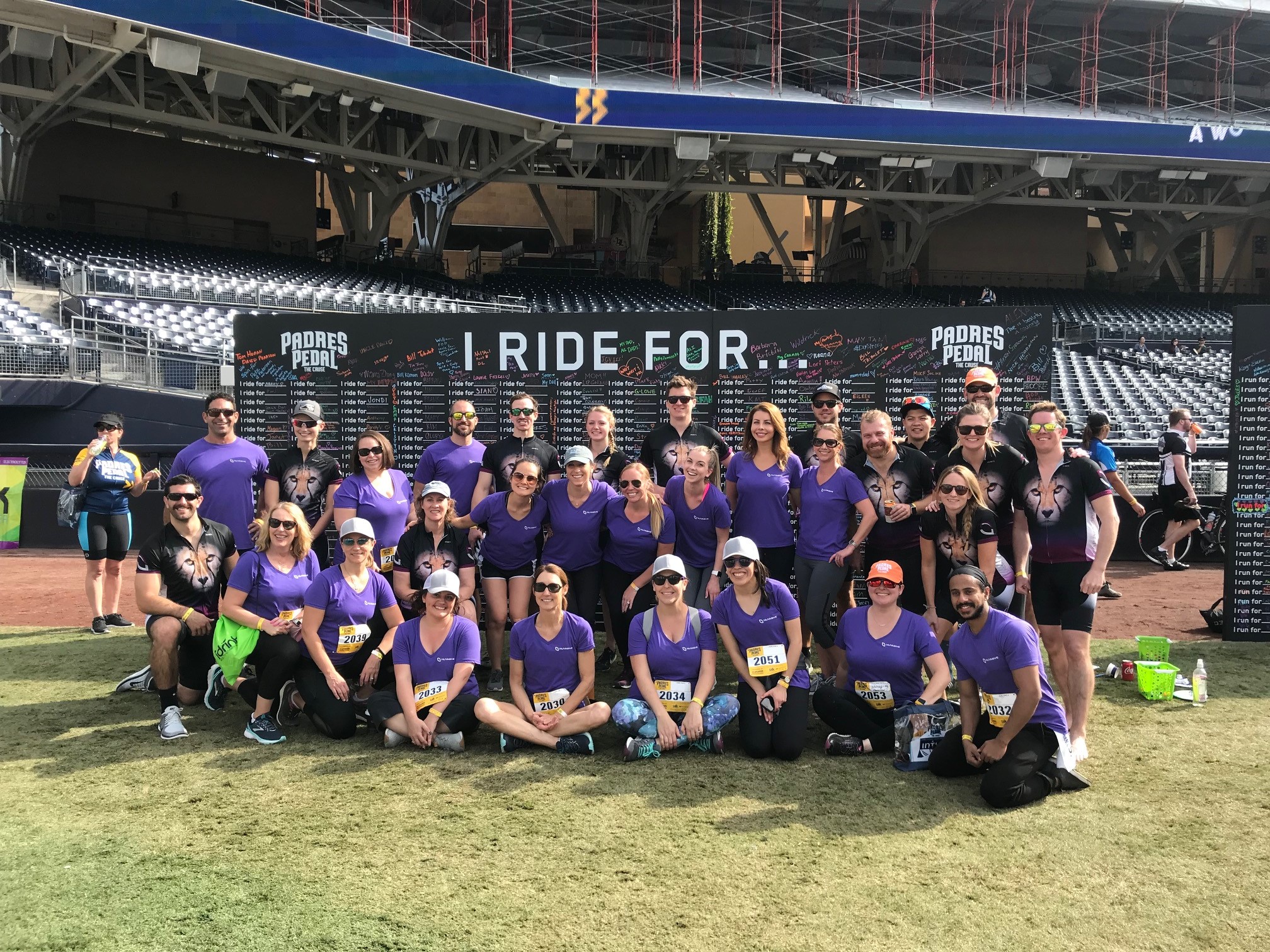 We've successfully finished this year's Padres Pedal the Cause! Helping this great cause for the third year in a row is something our NUVA Shareowners get excited about every fall season. This year's ride marks the second time we sponsored the Coronado Bridge route!
As one of San Diego's largest employers and innovators, we feel strongly about the need for increased local, cancer research and helping the beneficiaries get closer to finding a cure. Thank you to UC San Diego Health, Sanford Burnham Prebys, Salk Institute, and Rady Children's Hospital San Diego for turning the proceeds of Pedal the Cause into funding for more life-saving cancer research.
This year, our team consisted of more than 60 members, including Shareowners, their family members, and their friends. It was a rewarding Saturday full of rides, a new 5K walk/run event, and field celebrations. Riding alongside our coworkers and teammates on tough paths like the 88-mile Honey Springs Heartbreaker, The Century, Coronado Classic, and the casual 5K walk/run through the Hilton Bayfront was a treat for all of us.
We had the opportunity of sponsoring Sarah through the "Padres Pedal 2018 SuperKids" program that pairs teams with pediatric oncology patients at Rady Children's Hospital San Diego. Sarah became a Burkitt Lymphoma patient in October 2017. This was a very rare, high grade stage 3 Burkitt Lymphoma of intra-abdominal lymph nodes. In January of this year, Sarah and her family received news that she was in remission! As a 9-year-old, Sarah is excited to transition back to her life as an active and energetic girl at soccer practice, piano and art classes, and the beach. We're humbled to have sponsored Sarah this year!
At NUVA, we're very passionate about helping patients and the journey they go through to get better. We love supporting Padres Pedal the Cause because it creates an impact not only locally, but worldwide. Thank you to all of the participating teams for cycling together, giving back to our fellow healthcare leaders, and ultimately changing more patient lives.
---
To donate to Padres Pedal the Cause, click here.