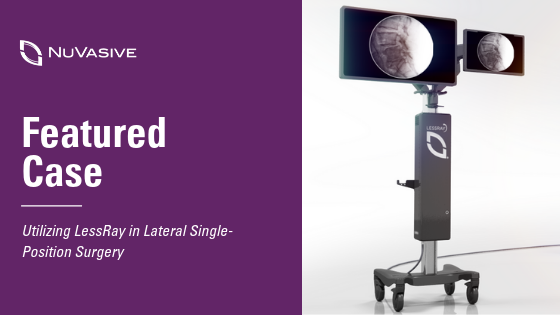 In our Featured Case series, NuVasive® will showcase innovative cases and how our unique technology is integrated to create a cohesive system to address key patient pathologies. Our mission at NuVasive is to change patient lives and we are constantly focused on how to deliver improved patient outcomes, increase OR safety and efficiency, and extend our technology to future applications.
In this Featured Case, we present a 68 year old woman with chronic left leg pain and an unstable L4-5 with spondylolisthesis. The patient suffered more pain with activity and had exhausted non-surgical treatments like transforaminal epidural steroid injections, radio frequency ablations, physical therapy, massage, and acupuncture. After consulting with Dr. Hadden, the surgical plan was to perform an L4-5 XLIF® with percutaneous fixation in the lateral decubitis position. The entire procedure was done with LessRay technology in the OR.
"LessRay will benefit my practice tremendously through increased efficiency with less time spent positioning the c-arm and significantly reducing radiation. My patients and staff know that I am taking steps to protect us all in the OR", says Dr. Hadden.
In order to minimize the patient's and OR staff's exposure to radiation, Dr. Hadden used a variety of LessRay features to help reduce the number of shots and radiation emitted throughout the case. LessRay allowed Dr. Hadden to track back to the targeted anatomical location and visualize the patient's correction in real time. At the start of the case, Dr. Hadden took initial c-arm images at standard dose and learned the image's location with the LessRay tracking feature. From this point on, all subsequent images taken at those learned locations were taken on low-dose, low-pulse settings, and then enhanced to look like standard dose images using LessRay's image enhancement algorithm. The total radiation and time for the entire case was 2.23 rad and 1.1 min.
"Single-position surgery has decreased surgical and anesthesia time substantially on my single level cases. It has decreased the cost from additional draping while flipping as well. This in turn has also decreased contamination risk normally caused by flipping patients," says Dr. Hadden.
The patient was discharged the morning after her surgery. She is currently two weeks post-op and does not need to come in for a check-up appointment until the six week mark.
---
Click here to read more featured cases.