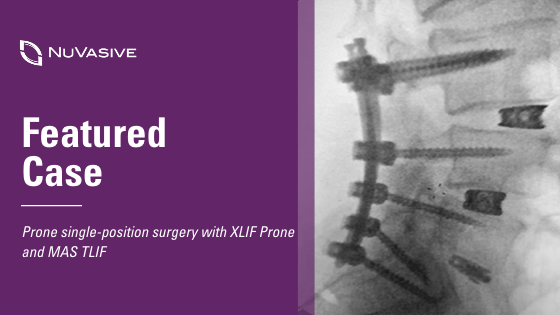 In our Featured Case series, NuVasive highlights outcome driven innovation, and the combination of access, interbody implants, biologics, fixation and enabling technologies to create a comprehensive system to address patient pathologies.
In this featured case, Dr. Sushil Basra, Long Island Spine Specialists, performs a prone single-position surgery with XLIF Prone, MAS TLIF, and navigated posterior fixation to provide both direct and indirect decompression for a patient suffering from L3-S1 degenerative disc disease and bilateral foraminal stenosis.
"For the right patient, prone single-position surgery makes a lot of sense. An open approach for this patient in particular wasn't a great option based on his age and surgical goals. Because he was a great candidate for transpsoas interbody from a prone position, we wanted to leverage prone SPS to correct his deformity while reducing operative time and blood loss."
-Dr. Sushil Basra
Case details:
Gender: Male
Age: 50
History: Previous L4-L5 laminectomy discectomy with increasing lumbar pain and lower extremity pain
Diagnosis:

L3-S1 degenerative disc disease with bilateral foraminal stenosis
Surgical Plan:
After evaluating the patient's three-level pathology, medical history and surgical goals, Dr. Basra determined that prone single-position surgery, with a transpsoas approach at L3-L4 and L4-L5, and TLIF at L5-S1, would provide the best opportunity for indirect decompression and restoration of lordosis through a less invasive approach.
Procedure:

L3-L4 and L4-L5 XLIF Prone
L5-S1 MAS TLIF
L3-S1 navigated posterior fixation

Access: Maxcess 4; MAS TLIF 2 Split Tubes
Interbody implants: Modulus XLIF; TLX° 20
Fixation: Reline
Enabling technologies: NVM5; intraoperative navigation
Dr. Basra and his team positioned the patient for a left-sided transpsoas approach, following the bolstering and taping steps that they had practiced in preparation for the first stage of the procedure. After positioning the patient, fluoro was used to confirm the patient was properly positioned for a direct line of access to L4-L5.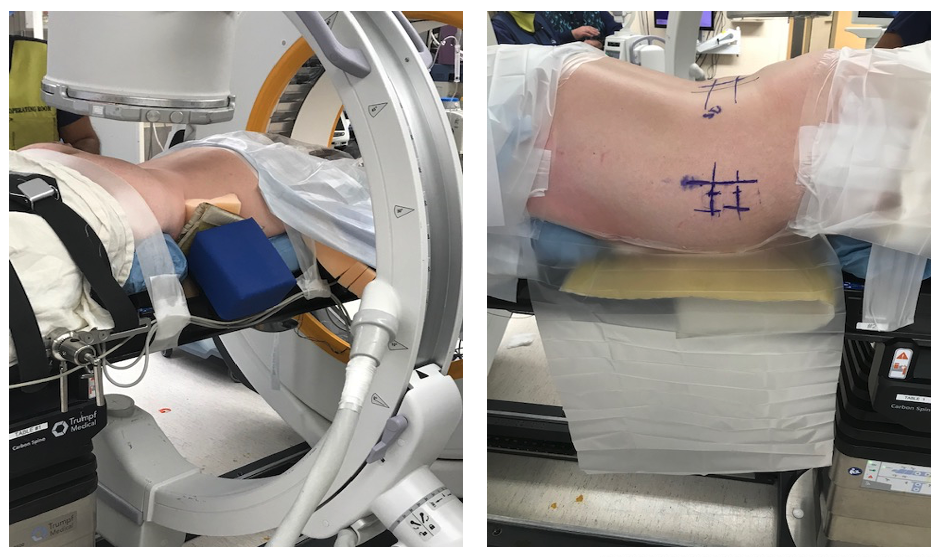 Once the patient was marked, Dr. Basra began the procedure with L3-L4 through the XLIF Prone technique, using NVM5 and Maxcess 4 to access the disc space, and placed the first Modulus XLIF interbody implant. Using the same incision and trajectory through the muscle, Dr. Basra then proceeded to perform the surgery at the L4-L5 level.

"We started closing the XLIF Prone incision and went right to posterior. There was no flipping the patient, no changing positions, just the release of tape and the removal of the bolster on the contralateral side so it wouldn't cause any pressure. From open to close prone-single position surgery saved us at least an hour in OR time."
-Dr. Sushil Basra
In the next stage of the procedure, Dr. Basra used intraoperative navigation to place screws from L3-S1 through vertical incisions, placing Reline Modular screws on the TLIF side of L5-S1 to allow for a more direct and efficient working corridor when used in combination with tube or split tube access systems. Moving onto the L5-S1 TLIF, Dr. Basra also used navigation to perform the facetectomy and confirm his trajectory to the disc space. He then proceeded to perform the procedure using the MAS TLIF 2 Split Tube access system and TLX inserter to deliver autograft, place and expand the TLX 20° cage, and post-pack the disc space. Dr. Basra completed the surgery by placing Reline 5.5 rods and closed the incisions.

"I used the modular screws on the TLIF side of L5-S1 because it provided me with the flexibility to use the split tube retractor without the screw heads getting in the way. If the patient has a lot of lordosis and you are trying to do your TLIF between the screw heads it is going to be a struggle."
-Dr. Sushil Basra
Outcome:
Dr. Basra was able to restore disc height and provide indirect decompression at L3-L5 and direct decompression at L5-S1 through less invasive approaches. The patient was on his feet and he began physical therapy the next day. The patient was discharged on the third day post-op, recovering well and off pain medication.
An individual's surgical procedure and recovery may deviate from what is described herein. Each case is unique and has its own independent considerations.  It is the surgeon's responsibility to discuss all relevant risks with the patient prior to surgery.
Click here to access each of the above-referenced product specific Instructions for Use for important product safety information, including, but not limited to, indications, contraindications, warnings, precautions, and potential adverse effects.