In our Featured Case series, NuVasive® will showcase innovative cases and how our unique technology is integrated to create a cohesive system to address key patient pathologies. Our mission at NuVasive is to change patient lives and we are constantly focused on how to deliver improved patient outcomes, increase OR safety and efficiency, and extend our technology to future applications.
In April, Los Angeles based trauma surgeon Geoff Marecek, MD, performed his first bone transport case using the Precice system. Brett Wurl, with BJG Medical, was the sales rep who managed this case.
In this Featured Case, the patient was a 56 year old male who suffered an open pilon fracture of his left distal tibia after a fall from a ladder. The patient was initially treated with a circular frame; however, he required a second surgery to address the fracture site with bone marrow aspirate to help promote healing. Unfortunately he went on to a non-union. After nine months in a ring fixator, the patient elected to have a Precice nail as his next treatment option.
Preoperative A/P and lateral X-rays were taken and careful measurements of the nonunion defect were made. In an effort to provide a better treatment option for his patient's nonunion, Dr. Marecek opted for a bone transport procedure utilizing a Precice tibia nail along with a Stryker® AxSOS® titanium distal medial tibia plate (22–hole, 331 mm long) for adjunct fixation. There was no preoperative evidence of infection.
Precice Nail Selected
10.7 mm x 245 mm Precice tibia nail.
The surgeon debrided the necrotic bone at the non-union site using an oscillating saw to leave viable bone ends. The bone defect was estimated at 60 mm. A long distal medial plate was used to maintain the length and stability of the tibia. The plate will also prevent any potential medial drift of the bone transport segment during postoperative lengthening.
Distal screws were placed in the medial plate. The location for the proximal plate screws was marked to ensure they would be anterior to the Precice nail. Standard venting and reaming was performed in preparation for the Precice nail. An osteotomy was created in a location that would allow four proximal screws in the plate while still having a large enough intercalary segment for the Precice nail to transport.
The Precice nail was carefully inserted and secured with two proximal 5.0 mm fully threaded screws followed by two distal 4.0 mm fully threaded screws (1=A/P, 1=M/L).The proximal screws were then inserted in the medial plate in the location that was initially marked. Finally, the Precice nail was lengthened 1 mm in the OR to check its proper function.This procedure was an antegrade transport in which the Precice nail will push the intercalary segment of bone to a docking segment in the distal tibia.
The patient began distraction with the Precice nail after a seven day latency period. The prescribed transport protocol was 0.25 mm of distraction 3x per day. In July, the patient finished distraction with the Precice nail. Cortical contact was achieved at the docking site and confirmed radiographically. Additional 0.25 mm daily compression sessions were performed until 2.0 mm of compression was achieved. At the end of August, Dr. Marecek grafted the docking site. Dr. Marecek is pleased with the early regenerate at the osteotomy site.
The Precice nail will eventually be removed once complete and successful healing has occurred.
For more information about this case, please send a message to the Precice training or marketing team.
---
Click here to read more featured cases.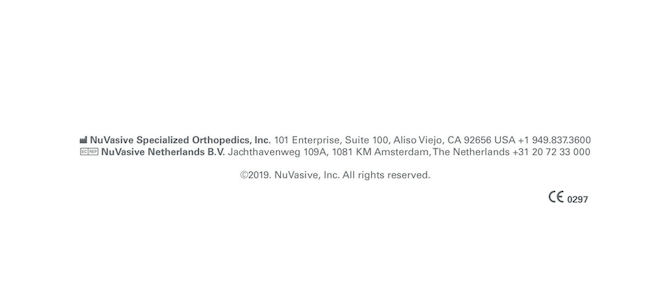 Rx Only
The Precice System is composed of an implantable intramedullary nail, locking screws, reusable instruments, and a hand-held remote External Remote Controller (ERC).  The Precice device is a sterile, single use device that is surgically implanted using the instruments and locking screws.  The ERC is used daily after implantation to non-invasively lengthen or shorten the implant to a prescribed length.  The Precice System is intended for limb lengthening, open and closed fracture fixation, pseudoarthrosis, mal-unions, non-unions, or bone transport of long bones.  Contraindications include infection or pathologic conditions of bone such as osteopenia which would impair the ability to securely fix the device, metal allergies and sensitivities, patients whose distance from the surface of the treated limb to the intramedullary canal is greater than 51 mm for the 10.7 and 12.5 mm diameter implants or greater than 38 mm for the 8.5 mm diameter implant, patients with an irregular bone diameter that would prevent insertion of the Precice device, patients in which the Precice device would cross joint spaces or open epiphyseal growth plates, patients in which there is an obliterated medullary canal or other conditions that tend to retard healing such as blood supply limitations, peripheral vascular disease or evidence of inadequate vascularity, patients unwilling or incapable of following postoperative care instructions, patients weighing in excess of 114 Kg for the 10.7 and 12.5 mm diameter implants (models A-G, H, J, K, U) or weighing in excess of 57 Kg for the 8.5 mm diameter implants models (A-G, H, J, K, U, N, M ,P, Q, V, X) and 10.7 mm diameter implants models (M,N,P,Q). The implantable device is only to be used by a trained licensed physician.  Please refer to the Precice System Instructions for Use for complete Important Safety Information or go to ww.nuvasive.com/eIFU.
Caution: Federal law restricts this device to sale by or on the order of a physician.