In our Featured Case series, NuVasive showcases innovative cases and how our technologies are integrated to create a cohesive system to address key patient pathologies. Our mission at NuVasive is to transform surgery, advance care, and change lives and we are constantly focused on how to deliver improved patient outcomes, increase OR safety and efficiency, and extend our technology to future applications.
In this case,the patient was a 42-year-old male presented with left ankle pain. He sustained a left open type IIIA tibial shaft fracture and closed femoral fracture 17 years ago from a motorcycle collision. Both were treated with internal fixation through an intramedullary (IM) nail. The hardware was subsequently removed. In addition to his ankle pain, the patient reported significant amount of left hip and knee pain. He also reported that his left leg was short and malrotated. Upon physical examination, the following problems were noted:
Post-traumatic ankle arthritis, left side
Total limb length discrepancy (LLD) was 30 mm, left side short

14 mm from femur
16 mm from tibia

S/P femoral malunion, 14 mm short and 15° externally rotated
S/P IIIA open tibia fracture with malunion was 16 mm short and 23° internally rotated
Diagnosis:
Left femoral and tibial post-traumatic malunions
The patient underwent radiographic analysis following physical examination of the observed symptoms:
Ankle pain: standing X-ray images of the left ankle
Perceived LLD: standing hip-to-ankle A/P radiograph with patellas centered
Rotational malalignment: CT rotational profile of bilateral lower extremities
The patient's surgeon, Dr. Mitchell Bernstein from Loyola University Medical Center, planned to execute the following treatment strategy for the patient:
Stage 1: Ankle fusion with internal fixation
Stage 2a: Femoral osteotomy for rotation correction and insertion of an antegrade Precice® nail using a piriformis entry (length correction at 14 mm)
Stage 2b: Tibial osteotomy for rotational correction and coronal realignment with tibial Precice IM device (length correction at 16 mm)
After the ankle fusion, the patient was re-evaluated. He reported disability with the rotational malalignment of his limbs and feeling as though he was walking on the lateral border of the limb. One option was to correct the 30 mm LLD through his femur or through his tibia alone. However, since the patient had opposing rotational malunions, the patient and Dr. Bernstein agreed that correcting the rotation in each bone was important for a good clinical outcome. In addition, a proximal tibial osteotomy would allow the surgeon to correct the hindfoot and limb varus by swinging the proximal tibia into valgus.
The surgical plan was to perform surgical corrections with the Precice nail at both levels:
Correct femoral LLD
Correct femoral malrotation
Correct tibial LLD
Correct tibial malrotation
Correct proximal tibial and hindfoot varus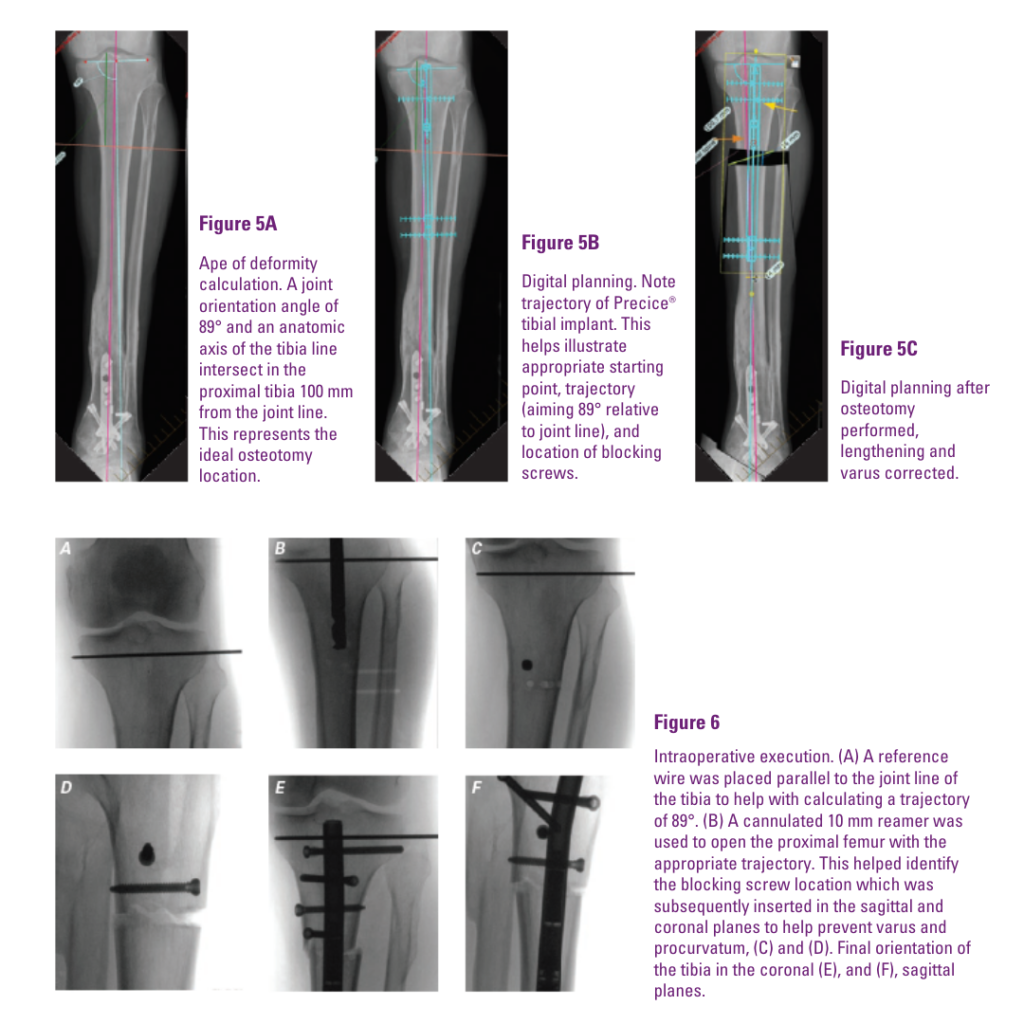 The patient was contacted one year post-op for an update on how he was doing since the patient and physician lived in different cities:
Dr. Bernstein: "Hi____. Great news! Bone is 100% healed! How do you feel? Any pain still? Do you feel as though you are walking more normally?"
Patient: "I feel much better. Zero pain!! And yes, I feel like I can walk normally."
For more information about Precice, please contact your local sales representative.
---
Click here to read more featured cases.
Rx Only
The Precice System is composed of an implantable intramedullary nail, locking screws, reusable instruments, and a hand-held remote External Remote Controller (ERC).  The Precice device is a sterile, single use device that is surgically implanted using the instruments and locking screws.  The ERC is used daily after implantation to non-invasively lengthen or shorten the implant to a prescribed length.  The Precice System is intended for limb lengthening, open and closed fracture fixation, pseudoarthrosis, mal-unions, non-unions, or bone transport of long bones.  Contraindications include infection or pathologic conditions of bone such as osteopenia which would impair the ability to securely fix the device, metal allergies and sensitivities, patients whose distance from the surface of the treated limb to the intramedullary canal is greater than 51 mm for the 10.7 and 12.5 mm diameter implants or greater than 38 mm for the 8.5 mm diameter implant, patients with an irregular bone diameter that would prevent insertion of the Precice device, patients in which the Precice device would cross joint spaces or open epiphyseal growth plates, patients in which there is an obliterated medullary canal or other conditions that tend to retard healing such as blood supply limitations, peripheral vascular disease or evidence of inadequate vascularity, patients unwilling or incapable of following postoperative care instructions, patients weighing in excess of 114 Kg for the 10.7 and 12.5 mm diameter implants (models A-G, H, J, K, U) or weighing in excess of 57 Kg for the 8.5 mm diameter implants models (A-G, H, J, K, U, N, M ,P, Q, V, X) and 10.7 mm diameter implants models (M,N,P,Q). The implantable device is only to be used by a trained licensed physician.  Please refer to the Precice System Instructions for Use for complete Important Safety Information or go to ww.nuvasive.com/eIFU.
Caution: Federal law restricts this device to sale by or on the order of a physician.