We are excited to announce the U.S. launch of AttraX® Scaffold, an absorbent ceramic-collagen bone graft with an optimized microarchitecture and the new AttraX Scaffold Demo Kit! The disposable kit features a 2cc sample of AttraX Scaffold with a syringe of artificial bone marrow aspirate to demonstrate its absorbent and moldable handling to your surgeon customers. The kit is now available to order through the NuVasive Product Services team!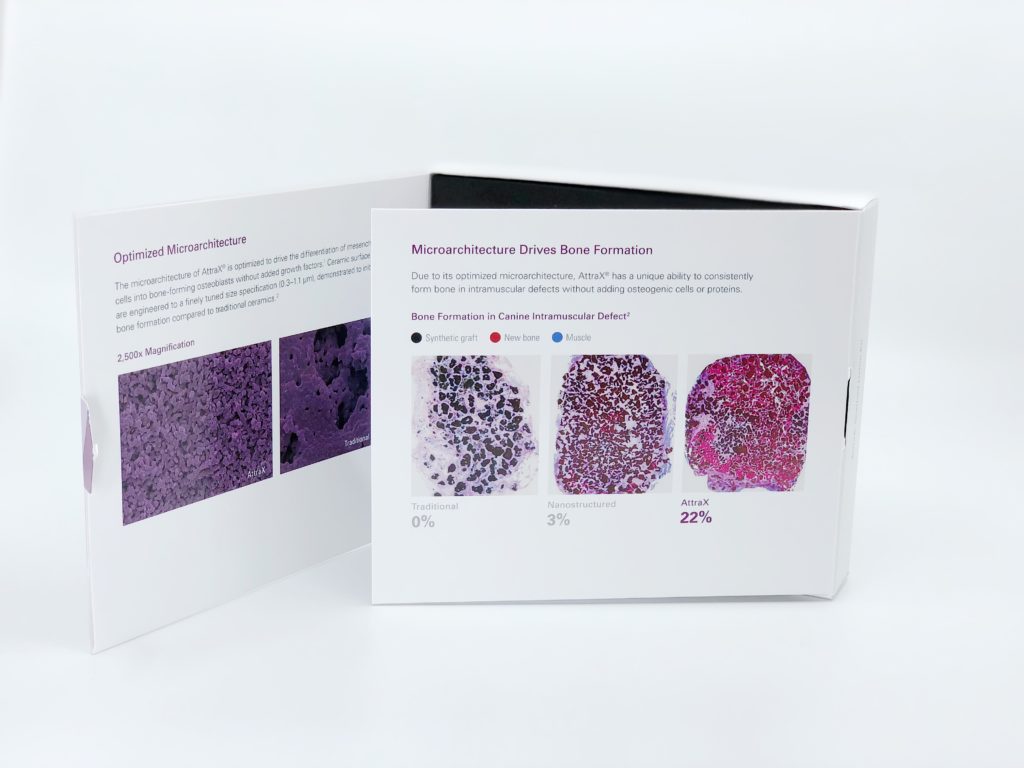 Unlike traditional ceramic materials that do not by themselves generate bone formation when implanted in an intramuscular site, AttraX Scaffold has unique microstructure and microporosity that are optimized for bone formation in this environment. The AttraX surface technology, through its carefully defined and tightly controlled features at the submicron scale, drives the differentiation of mesenchymal stem cells into bone-forming osteoblasts without added growth factors.2
"AttraX Scaffold was easy to use and maintained excellent handling characteristics throughout the procedures," said Dr. J. Kenneth Burkus of the Hughston Clinic in Columbus, Ga., after performing the first clinical cases with the NuVasive biologic. "The material was highly absorbent of bone marrow aspirate and easily cut or molded to the desired shape. After experiencing AttraX Scaffold firsthand, I am very pleased to offer this scientifically advanced ceramic bone graft to my spinal fusion patients."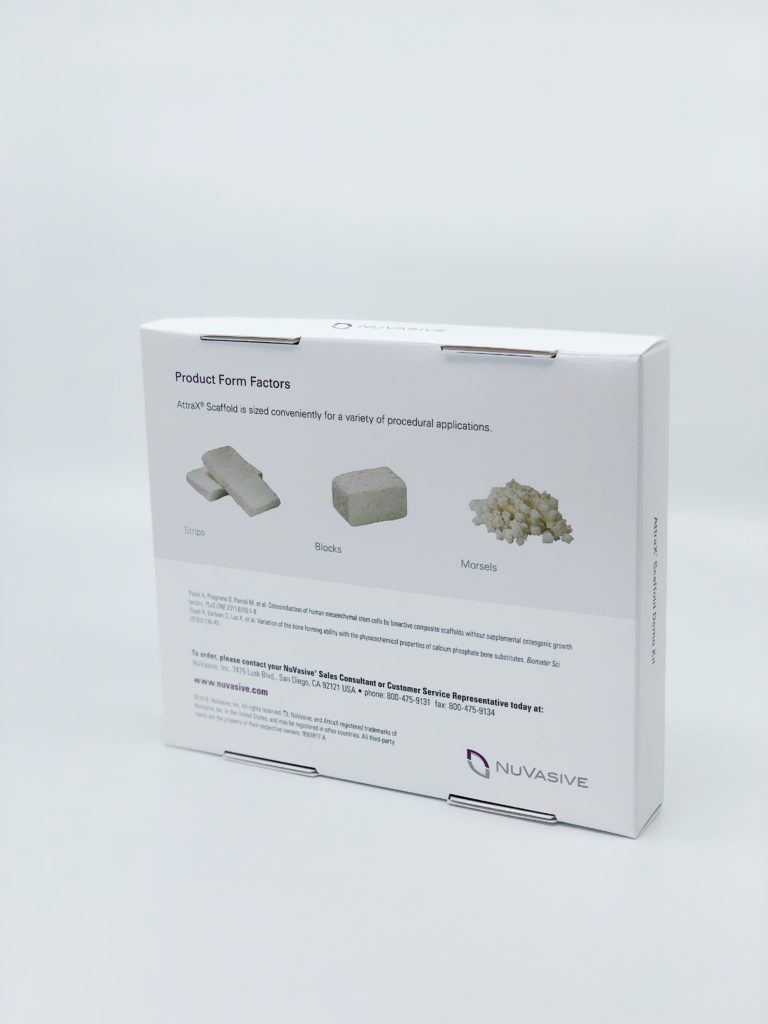 Available in strips, blocks and morsels, AttraX Scaffold can be used in the posterolateral spine to promote fusion. AttraX Scaffold complements the currently marketed AttraX Putty product line to offer spine surgeons a suite of surface-optimized ceramic graft materials to meet surgical needs. During preclinical testing in posterolateral fusion (PLF) models, AttraX fusion rates were equivalent to or better than autograft, and faster than traditional ceramic grafts.1,3-5 In addition, spinal segments fused with AttraX had greater biomechanical strength than segments treated with ACTIFUSE ABX or Vitoss BA in a rabbit PLF model.6
"With AttraX Scaffold we have enhanced the NuVasive Biologics portoflio to better serve our surgeons,"

-Matt Link, executive vice president, strategy, technology and corporate development for NuVasive.
The addition of AttraX Scaffold strengthens the NuVasive biologics portfolio by providing differentiated clinical options in each of the major biologics categories: Osteocel® in the cellular allograft category, Propel™ in the DBM category and AttraX in the synthetic category.
---
1 Walsh, WR, Oliver RA, Pelletier MH, et al. Efficacy of a novel microstructured calcium phosphate-collagen bone graft in a rabbit posterolateral spine fusion model. International Society for the Advancement of Spine Surgery 2018 Annual Conference. Toronto, Canada.
2 Yuan H, Fernandes H, Habibovic P, et al. Osteoinductive ceramics as a synthetic alternative to autologous bone grafting. Proc Natl Acad Sci 2010;107:13614-9.
3 Vizesi F, Cunningham B, Hu N, et al. Nanostructured TCP in the sheep posterolateral fusion model. 9th World Biomaterials Congress 2012. Chengdu, China.
4 Ismailoglu AS, Vizesi F, Cunningham B, et al. Fibrillar collagen/TCP scaffold in the sheep posterolateral fusion model. Society for Biomaterials Annual Meeting 2012. New Orleans, LA, USA.
5 Fredericks DC, Smucker JD, Peterson EB, et al. Novel TCP compares favorably to autograft in posterolateral fusion: evaluation in rabbit and sheep models. International Society for the Advancement of Spine Surgery 2013 Annual Conference. Vancouver, BC, Canada.
6 Walsh WR, Degroot F, Bertollo N, et al. Nanostructured TCP in rabbit posterolateral fusion compared to commercial osteobiologics. American Academy of Orthopaedic Surgeons 2011 Annual Meeting. San Diego, CA, USA.