NuVasive ANZ
At NuVasive ANZ, our mission is to partner with our customers to improve the lives of patients who suffer from debilitating back, neck or leg pain by creating cutting-edge products and procedures that revolutionalise spine surgery.
The NuVasive Difference

The third largest medical device company in the global spine industry, NuVasive is creating innovation today that our surgeon partners and patients will need tomorrow. We feature more than 90 products spanning lumbar, thoracic, and cervical applications, computer-assisted surgical services, and a biologics portfolio.
Our line of products and surgical procedures at NuVasive are complemented by state-of-the-art surgeon education programs and training. Our support includes online learning, live clinical observation, case support and peer education. Hundreds of surgeons are trained at our hands-on cadaver labs every year.
The NuVasive Spine Lineup
As the leader in spine technology innovation, we continue to focus on changing patient lives through leading in innovation of disruptive technology. Learn more about the 2020 NuVasive Spine Lineup featuring: X360™, TLIF, Pediatrics, Reline®, Advanced Materials Science™ and Pulse®.
Click on the tiles below to learn more.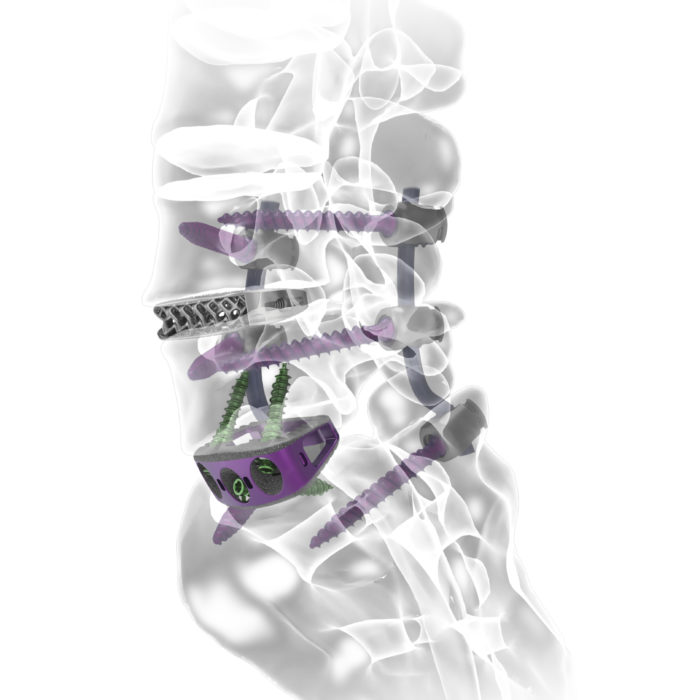 X360
One position. One comprehensive system.
The X360 System is a comprehensive approach to lateral single-position surgery powered by Surgical Intelligence, an ecosystem of technologies enabling safer, faster, smarter surgery. The integration of XLIF®, XALIF™, and XFixation™ into a single platform enables surgeons to treat a patient without repositioning, which may reduce patient time under anesthesia and hospital costs.
TLIF
Surgical efficiency. Alignment.
As an innovator in the TLIF space, NuVasive technology helps deliver an optimized surgical experience from single-level degenerative to multi-level deformity cases. The NuVasive TLIF philosophy, coupled with its comprehensive portfolio, provides open and MAS® procedural systems that include the requisite tools surgeons need to plan surgery, access affected levels, restore alignment and disc height, provide optimized fixation, and deliver graft material.
Reline
Surgical efficiency meets reliable versatility.
The Reline portfolio represents the evolution of posterior fixation technology, providing integrated Open and MAS procedural solutions. Whether preserving or restoring spinal alignment, the seamless and versatiledesign of Reline provides one system to address even the most difficult pathologies.
Pediatrics
Becoming the number one partner in pediatrics.
NuVasive is translating nearly 20 years of leadership in spine care into innovative solutions for the pediatric market. In an effort to evolve the standard of care for early-onset scoliosis (EOS) and adolescent deformity patients, we have invested in a comprehensive product portfolio that introduces surgical efficiencies and optimized implant constructs, and we remain committed to supporting the progression of clinical education and scientific research in this space.
Advanced Materials Science
Intelligently designed for fusion.
Adhering to the three core principles of Advanced Materials Science™—Surface, Structure, and Imaging—NuVasive® has pioneered design and manufacturing methods that combine the inherent benefits of porosity with the advantageous material properties of PEEK and titanium to create implants intelligently designed for fusion.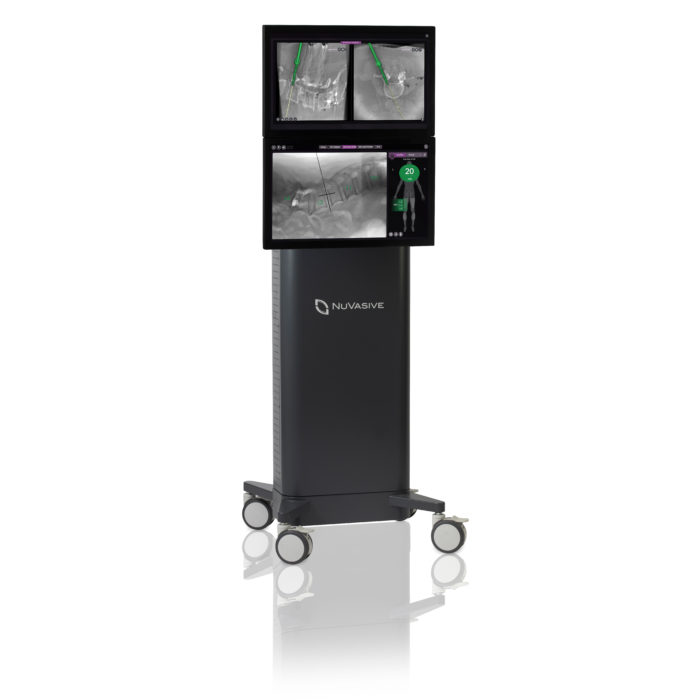 Pulse
An integrated technology platform to enable better spine surgery.
In a single expandable platform, Pulse integrates multiple enabling technologies to improve workflow, reduce variability, and increase the reproducibility of surgical outcomes. These technologies include neuromonitoring, global alignment, rod bending, radiation reduction, imaging, and navigation.
T
he Leader in Lateral Spine Surgery
X360
The X360 System, powered by Surgical Intelligence™, includes XLIF®, XALIF™, and XFixation™. The integration of these procedures into a single system allows for significant time savings through the use of modern, less invasive techniques performed with the patient in lateral throughout the entire surgery.
Reduce

OR time by up to 60 minutes

1

 and save nearly $5,000 per patient in hospital costs

2,3

Enhance OR workflow and efficiency

Reduce time under anesthesia and lower intraoperative risks

4,5
Featured Product
Advanced Materials Science
Through Advanced Materials Science, NuVasive strives to develop proprietary surface and structural technologies to enhance the osseointegration and biomechanical properties of surgical materials.
The breakthrough technologies designed through Advanced Materials Science are rooted in three key principles:
Surface
Developing technologies that enhance osseointegration while increasing stability and resistance to expulsion.
Structure
Engineering material structures to mimic the elastic modulus of bone while maintaining durability.
Imaging
Designing technologies that improve visualization on a variety of imaging modalities.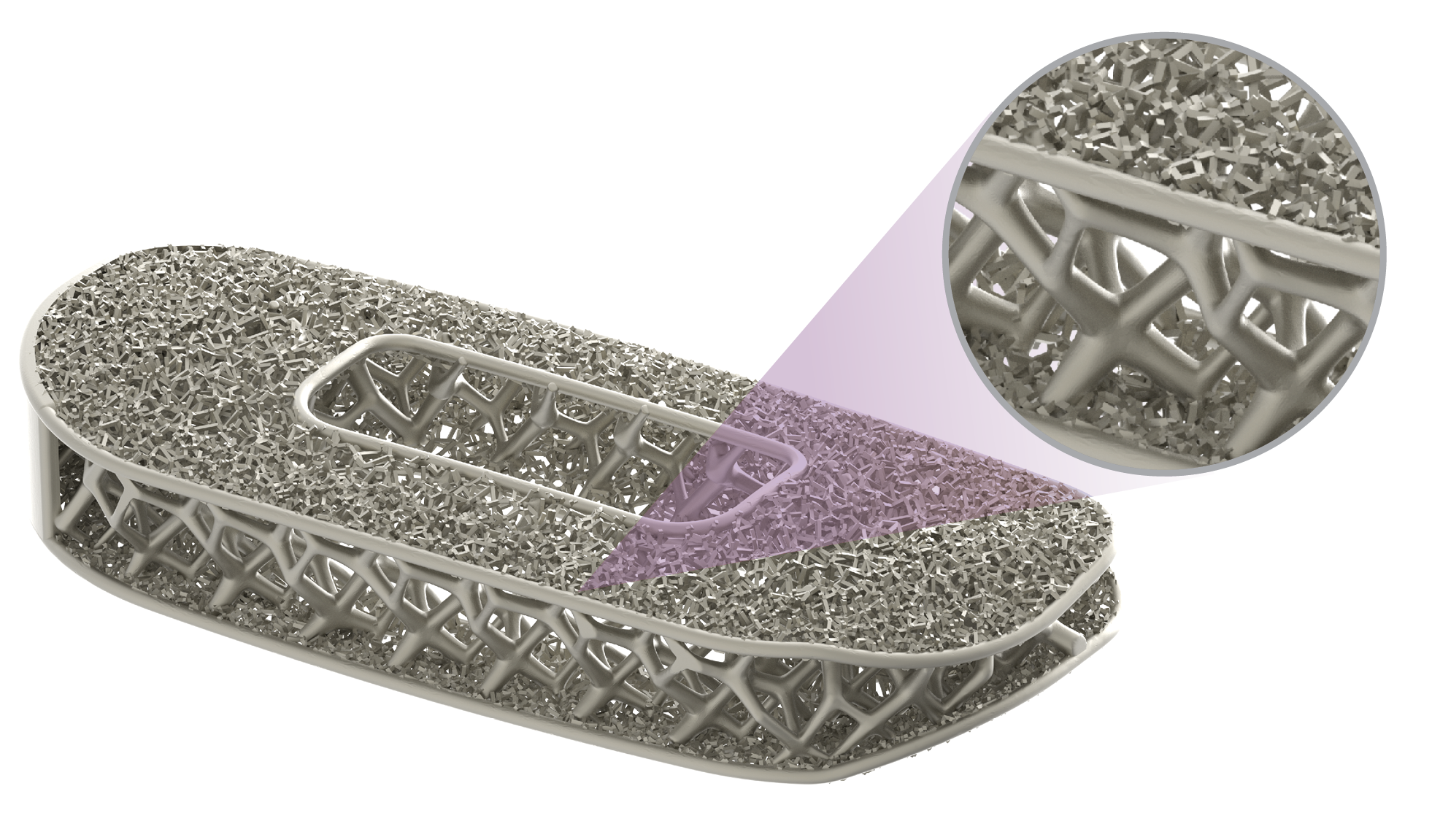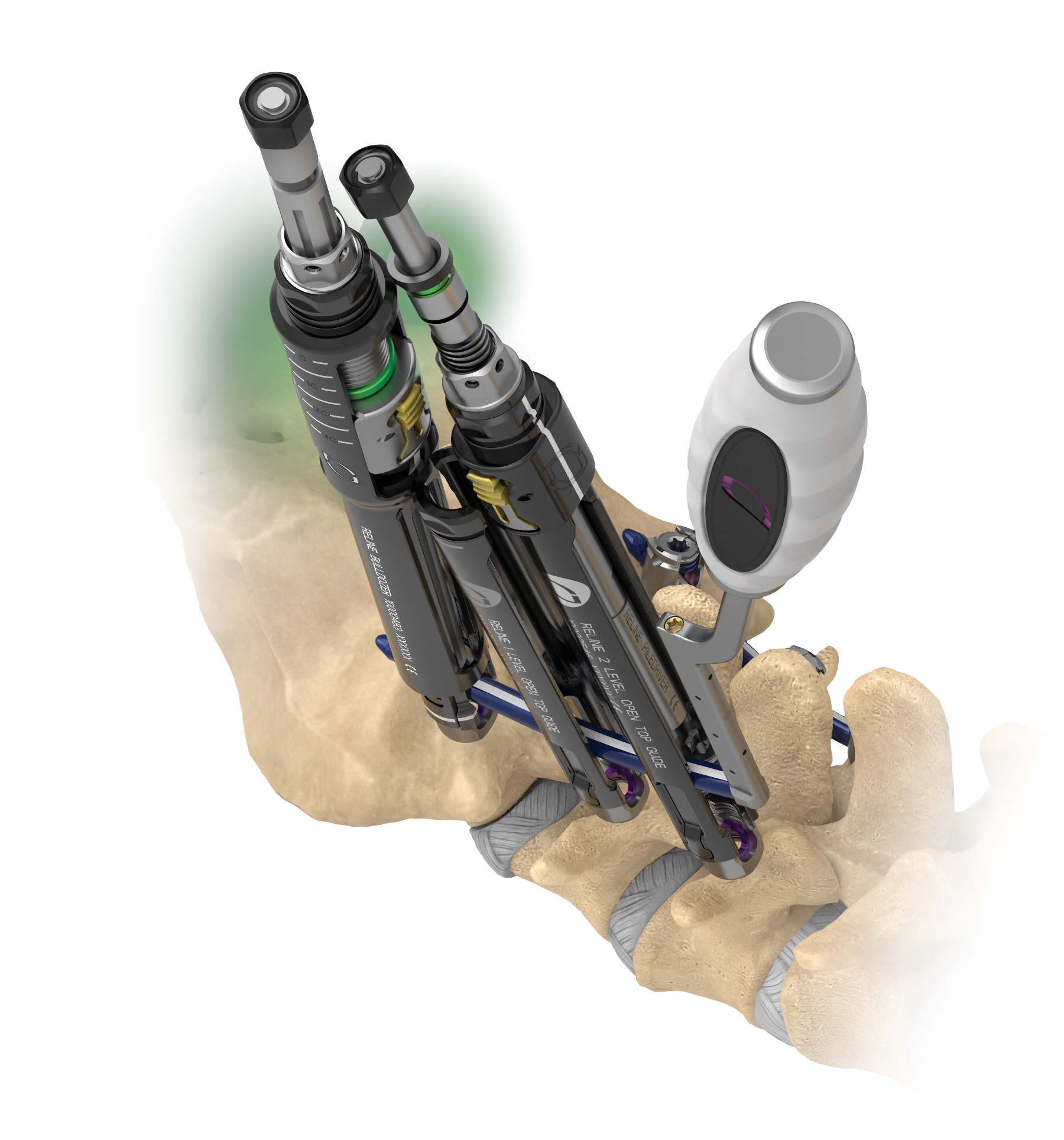 Featured Product

Reline
The RELINE portfolio represents an evolution of posterior fixation technology designed to facilitate the preservation and restoration of patient alignment, while addressing a vast array of spinal pathologies from an open, MAS®, or hybrid approach.
RELINE posterior fixation technology is part of the iGA® platform designed to achieve global alignment across all spinal procedures.
Surgical Efficiency
Universal Open and MAS solutions created to help deliver an enhanced surgical experience.
Operative Reliability
Multiple surgical options designed to provide dependable strength.
Procedural Versatility
Pathology-based instrumentation to approach a variety of surgical techniques.
Featured Procedure

MAS TLIF 2
Maximum Access Surgery (MAS) Transforaminal Lumbar Interbody Fusion (TLIF) is a surgical procedure that was developed to provide spinal stability and help reduce pain in the lower back and lower extremities by using a less disruptive surgical procedure.
MAS TLIF 2 is the next generation minimally disruptive, pedicle-based TLIF retractor. It is an integrated procedural alignment solution designed for maximum visibility, functionality, and unimpeded access to known clinical and anatomical landmarks.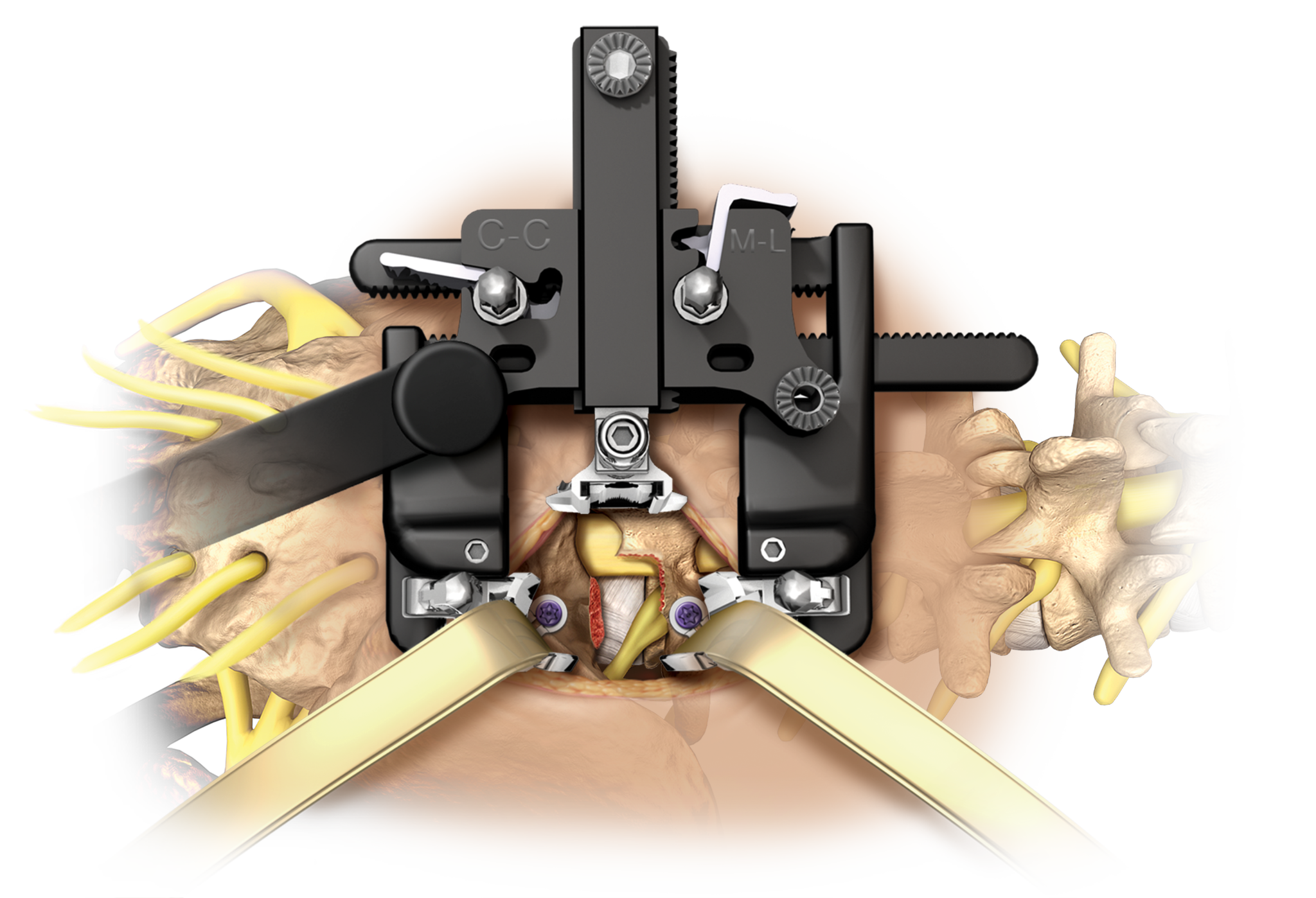 Alignment
iGA
Integrated Global Alignment (iGA) is a platform comprised of procedurally based technologies, designed to enhance clinical and economic outcomes by increasing the predictability of achieving global alignment in all spinal procedures. Integration across the surgical workflow allows the surgeon to confidently and reproducibly:
• Calculate alignment parameters with preoperative planning tools.
• Correct the anterior and posterior column with comprehensive procedural solutions from NuVasive® with the industry's only real-time intraoperative assessment.
• Confirm the restoration and preservation of global alignment postoperatively.
Featured Product

TLX 20°
TLX provides anterior column stability and restoration of sagittal alignment with up to 20° of customizable oblique lordosis from a posterior approach.
Customizable Fit
True anatomical fit enabled by various heights, footprints, and lordotic options.
Controlled, incremental expansion up to 20° secured by integrated auto-lock feature.
Oblique Lordotic Expansion
Anterior column stability and restoration of sagittal alignment with up to 20° of customizable lordosis.
Unique implant profile maintains coronal alignment while expanding in the oblique plane.
Streamlined Performance
One multifunctional instrument designed to rapidly insert, expand and post pack the implant.
Corporate Governance
Commitment | Courage | Respect
In order to ensure such compliance, NuVasive has adopted a comprehensive compliance program, entitled NuVasive Global Business Ethics and Compliance Program, which is designed to prevent, detect, and deter unethical business conduct, or violations of law or Company policy.
The NuVasive Integrity Hotline can be reached in Australia at 1-800-037-469.
1. Drazin D, Kim TT, Johnson JP. Simultaneous lateral interbody fusion and posterior percutaneous instrumentation: early experience and technical considerations. Biomed Res Int 2015:Article ID 458284.
2. Macario A. What does one minute of operating room time cost? J Clin Anesth 2010;22(4):233-6.
3. Shippert RD. A study of time-dependent operating room fees and how to save $100,000 by using time-saving products. Am J Cosmet Surg2005;22(1):25-34.
4. Olsen MA, Mayfield J, Lauryssen C, et al. Risk factors for surgical site infection in spinal surgery. J Neurosurg 2003;98(2):149-55.24.
5. Olsen MA, Nepple JJ, Riew KD, et al. Risk factors for surgical site infection following orthopaedic spinal operations. J Bone Joint Surg Am 2008;90(1):62-9.